San Francisco Gift Fair to Add Tabletop, Gourmet and Housewares
Posted on 
October 7, 2011
 by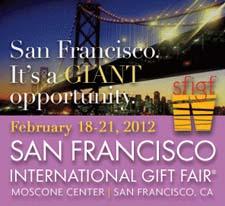 ATLANTA-Urban Expositions will launch a tabletop, gourmet and housewares section at the San Francisco International Gift Fair in February.
The new section will offer kitchen gadgets, cookware, tabletop, specialty foods and other related items together with the show's nine other gift and home categories "to offer a one-stop product resource for Western region retailers," according to a statement from Urban Expositions, a trade show producer. The new tabletop, gourmet & housewares section will be located at the front of the show floor, alongside the juried Design section.
"As famous for its restaurants and food trends as it is for its Golden Gate Bridge and cable cars, San Francisco is the perfect trade show city to focus on this sector," explains Doug Miller, president, Urban Expositions. "In addition to providing a new showplace for many of the leading tabletop, housewares and gourmet lines previously housed at the 888 Brannan building, this new section gives us an ideal opportunity to expand new business opportunities for buyers and exhibitors alike."
Urban Expositions said it will launch a targeted marketing campaign to secure the attendance of specialty gourmet retailers and other lifestyle and home entertainment buyers. Among the programs in development are celebrity chef appearances and book signings and a special travel incentive program for wineries.
The show will take place Feb. 18 - 21 at the Moscone Center.
advertisement