Blogs
Tendence: Eight Centuries of Introductions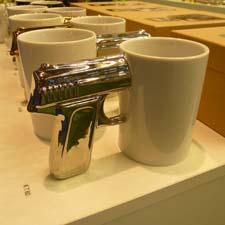 Weapons are no longer sold at Tendence, but sometimes provide inspiration (here from MTM Gifts).
While talking to Nicolette Naumann, vice president of Messe Frankfurt, about her expectations for this year's Tendence show--I was curious about how long Tendence has been in existence.
After a quick calculation in her head, she said, "772 years."
Wow! As in, almost eight centuries? I expect European buildings and other architecture to be hundreds of years old; I never heard of a trade show that old.
Naumann explained that the German emperor at the time, who oversaw Italy, Austria and part of Spain, wanted merchants to come to Frankfurt to sell their high-end goods, such as silk, fur, weapons, embroidered fabric and such. To encourage them to attend, he gave "exhibitors" two privileges: they wouldn't be taxed on the goods they were bringing in (which is still true today, Naumann said) and they would travel under personal protection of the emperor.
The exhibitors traveled to Frankfurt by caravan, and then would rent out shops and parts of City Hall to display their wares during the two-week-long trade show. Because of the large amounts of money being exchanged, merchants and buyers had to have a way to swap money safely, which led to the Frankfurt's renowned banking system. Documents from that time talk about people complaining about the noise and the "women of ill repute" during the show, she added.
Its age makes Tendence the longest continually running trade show in the world, Naumann said. That's a lot of product over the years.--Andrea Lillo