Trends from Tabletop
Posted on 
November 10, 2011
 by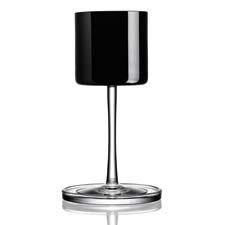 Karl Lagerfeld stemware and coaster for Orrefors. orrefors.com
By Allison Zisko
Last month's New York Tabletop Show was positive, upbeat and trend-forward, with an impressive number of introductions, new licensing agreements and strategic positioning by companies responding to marketplace demands.
Many upstairs companies continue to adjust to the changing marketplace in terms of both price points and product design. Denby, for example, has a new Entree program that offers the classic Denby look and quality at a lower price point, made possible by "factory friendly" production. The Harlequin Brights collection, a reinterpretation of its longstanding Harlequin collection, retails for $39.99 on sale for a four-piece set, the "sweet spot" for new customers, according to President Lynn Okulski.
Wedgwood has made all of its white patterns available as four, rather than five, piece sets, while sister company Waterford has added a more contemporary cut to its Lismore pattern (celebrating its 60th anniversary next year) along with eye-catching, Andy Warhol-like packaging designed to attract the younger consumer.
At Fitz and Floyd, "we've managed to bring our price points down to consumers' needs, [to the range] of affordable luxury, and it's really working for us," said Sharon Nale, vice president of product design and development. The company launched three holiday collections, green and pink Cherry Blossom dinnerware, and New Heritage, a casual collection in turquoise and kiwi colorways. The company also introduced six dinnerware patterns for Lauren Ralph Lauren.
Licensing activity revved up at this market. Gibson has inked an agreement with ready-to-wear designer Isaac Mizrahi, while Karl Lagerfeld has designed a stemware collection for Orrefors. Wedgwood has partnered with Donna Hay, the Australian cookbook author, food editor and television personality, on a collection of everyday dinnerware and accessories. London designer Bodo Sperlein has created a new line of dinnerware and tea items for Nikko. The Jay Companies have partnered with Waverly to create a number of new dinnerware patterns, along with beverage dispensers, plastic trays and other giftware. Jay also brought to market the Jelly Belly collection of dinnerware and giftware and several new mug and giftware pieces under the Saturday Evening Post name.
Visual texture was evident in every tabletop classification--there were highly textured and tactile flatware handles, laser etched and diamond-cut glassware and lots of embossed dinnerware. Lacey details, again across all classifications, were prominent, along with other dressmaker designs. Pattern over pattern and the evolution of reactive glazes--to include more intricate designs and handpainted effects--are also an important direction.
Key colorways include gray (softened by micaceous finishes, the overlay of lacey details, or through a pairing with a neutral such as taupe) and the combination of soft watery blues, such as aqua and teal, with equally soft greens like pistachio and lime.
Florals are still a big deal (big and blowsy, oversized, stylized or outlined), as are nature motifs. Birds are an ongoing motif, particularly the peacock and the owl. Animal prints (cheetahs, zebra, giraffe) have become more mainstream.
As tea drinking grows in popularity, so have tea accessories. This market revealed several tea collections from various vendors.
These more feminine details are balanced by a handful of masculine looks, executed through the use of mixed materials like black leather, tortoise and chrome. The "Mad Men" influence could be seen in extended barware collections, continued attention to brown liquors (but also beer), a steady stream of new decanters and a return to the saucer-shaped champagne glass.
advertisement
Donny Osmond Home Adds Decorative Accessories

   More Videos
advertisement
advertisement
Tweets by @HFNmag