Umbra Founders Inducted into Canada's Marketing Hall of Legends
Posted on 
April 22, 2011
 by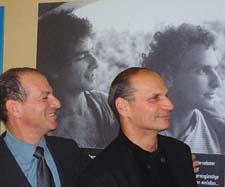 Les Mandelbaum and Paul Rowan
TORONTO-Les Mandelbaum and Paul Rowan, the two founders of Umbra, have been inducted into Canada's Marketing Hall of Legends.
The two men founded the company, a resource for casual home furnishings, more than 30 years ago. A statement from the Marketing Hall of Legends cited Mandelbaum and Rowan as "great entrepreneurs who have created enduring, valuable and iconic Canadian brands."
The two executives were inducted into the hall at a ceremony here on April 14.
advertisement