Whimsical Tabletop on the Menu
Posted on 
December 28, 2010
 by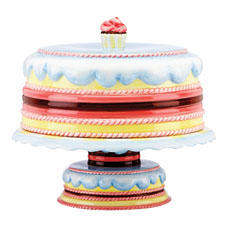 The new Merry Go Round collection from Gorham
By Allison Zisko
Recent dinnerware introductions took a playful approach to design by featuring cartoon-like figures and cheeky phrases on various giftware items.
Gorham has created a new brand, Merry Go Round, that turns traditional nursery rhymes on their ear with modern interpretations of beloved characters. The Queen of Hearts, for example, has slimmed down considerably and donned a vampy red dress in the Gorham version; she is also trying to balance a plate of tarts in each hand. Pat-a-Cake Baker's Man and Polly Put the Kettle On have undergone similar (albeit more innocent) transformations in a tea story that includes a cake stand, tea pot and other items. A baby collection is sweet with a slightly sophisticated edge: Little Girl with a Curl is rendered in pink and green stripes for girls while Little Boy Blue, on a blue and green striped background, goes all out playing his horn for boys.
"The whole theme of the collection was fun," said Jim Mylonas, vice president, Gorham. "We used the characters to give the collection personality, but then we let the shapes, the color palette and the pattern work take it from there and round out the collection."
Portmeirion's new licensing agreement with Lolita brings that brand's girl's-night-out sensibility to ceramics. A collection of party plates and platters, mugs and ceramic wine coolers sport phrases like "You Say Princess Like it's a Bad Thing," "Real Housewives of the North Pole" (with a depiction of glamorous snowomen) and "Celebrate! Who Needs A Reason?"
"The launch of our new Lolita-branded ceramics at October market was very well received and we are very excited to partner with the Lolita team on this project," said Paul Murawski, vice president of marketing, Portmeirion Group USA. "The Lolita license not only gives us a new 'giftable' opportunity, but also allows us to target a younger demographic, with the ideal gift for that special person, occasion or celebration."
American Atelier, which has been successful with its Delish line of handpainted glassware with whimsical designs, has also capitalized on the sassy-girl motif with it series of Girl Talk dessert plates and other giftware, replete with shopping, chocolate-eating and other female-funny themes.
The reaction at the fall market was overwhelmingly positive, said Melissa Schwartz Hinton, American Atelier's vice president of sales, with buyers standing in front of the display, reading them and laughing out loud. "The line will be a great extension of our already successful Delish line of 'stemware with attitude' [that is] handpainted, embellished and packed in the 'ready-to-give' hatbox-style gift box," she said. "This is really a gift business with our target customer--women buying them as gifts for friends. The packaging makes it that much easier to 'give on the go' and really enhances the value. They make great girl's-night-out gifts, housewarming gifts, birthday gifts, just about every occasion is covered. They are just a lot of fun."
advertisement