AmericasMart: All that Glitters
In rugs, surface interest and softness are playing a strong part among new collections
July 15, 2016
,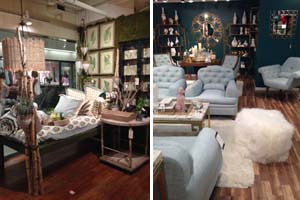 Left: Botanicals and natural wood prevail in the Creative Co-Op showroom; right: A&B Home's Lily collection by Kathy Ireland Design Jardin.

ATLANTA—Matte, shimmery or high shine, gold as an accent or primary material on home décor and furniture is appearing on many new introductions at the Atlanta International Gift & Home Furnishings Market.
From occasional tables and chairs to wall art, home accents and lighting and lamps, gold accents are adding glamour to designs and adding a new level of sophistication absent in recent years after heavy focus on contemporary rustic and farmhouse chic and industrial looks. While casual designs remain popular, bling is making a certain comeback.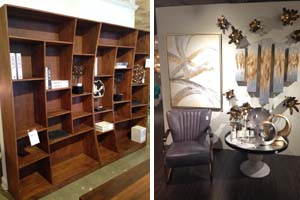 Left: Moe's Home Collection's Niagara Cube Bookcase; right: The Imax Nakasa luxury collection uses a variety of materials including mixed metals, acrylic and agate accents.
Sagebrook Home's major introductions at the front of its showroom heavily feature gold on tables, trays and vases to wall art, bar carts, mirrors and candle holders. "Glitz and more sophisticated looks are definitely in, tending towards a more modern and sophisticated design," said Justin Kachan, CEO of Sagebrook, a home décor company that introduced 700 SKUs here at market.
On display at A&B Home is Vintage Modern by Kathy Ireland Design's A Cafe brand, inspired by the glamour and elegance of Hollywood's Silver Screen era. Targeting the young millennial shopper seeking a little bit of elegance, the collection incorporates dressmaker details such as pink tufting and pleats accessorized with touches of metallic finishes, mirror and marble. The Lily collection by Kathy Ireland Design Jardin features serene blue linen upholstery atop generously proportioned seating, set off by a marble accent table and unique white and metallic gold accessories. "Whether [the customer] is refreshing accents or designing a room, A Cafe and Jardin offer a fresh point of view, where vintage meets modern in an elegantly appointed style, " said Renee DuBois of A&B Home.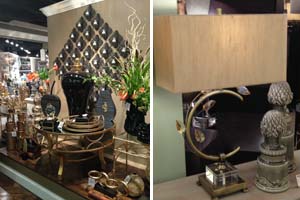 Left: Gold features prominently in the Sagebrook Home showroom; right: Crestview Collection's Laura Table Lamp.
Gold and crystals have also worked their way into lighting and wall art at Crestview Collection with the contemporary Laura Lamp with its rectangular shade and amber crystals, the simple lines and gold gloss of the Casana Table Lamp, and the gold leaf in the paint used in the trees in "Morning," a 40-inch by 60-inch painting.
Gold also featured prominently in Nakasa, the new luxury lifestyle brand from Imax. The collection includes accent furniture in hand-dyed and finished top grain leather, solid wood, marble, transparent acrylic and upholstery. Along with European glass accent pieces made in Poland, a variety of materials are used to create statement pieces including mixed metals, acrylic wall art with floating frames, agate accents, crystal and marble.
While gold and metallics were present in the Creative Co-Op showroom, botanicals and natural wood prevailed. Wall art, textiles and accent furniture pieces with ferns, leaves and other elements of nature, and raw wood finishes, as well as ceramics in shapes and forms that look handmade and handcrafter dominated retail buyer attention.
Natural and reclaimed wood also made a statement at Moe's Home Collection with its Bent Collection, the solid wood Cartwright Rectangular Dining Table and the shapely Niagara Cube Bookcase in two side-by-side pieces, all made of acacia wood.
Rug Softness and Textures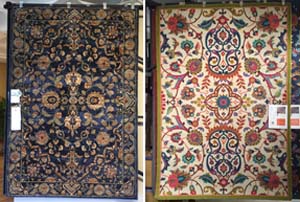 Left: American Rug Craftsmen debuted Providence; right: A design from Surya's Bukhara line
Surface interest and softness are playing a strong part in rug introductions here. At Mohawk Home's Karastan division, the SmartStrand Silk fiber—a softer version of Mohawk's Smart Strand—was used in two new collections: Cosmopolitan, of transitional designs, and Enigma, which features modern looks.
Mohawk's American Rug Craftsmen saw a call for promotional price point product, said Brandon Culpepper, which debuted four collections with Mohawk's EverStrand fiber. They included Providence, a solution-dyed collection that at $199 retail for a 5-by-8 competes with polypropylene rugs, he said. With traditional and transitional designs, it's "super soft" and very durable.
Rizzy Home went natural in its Suffolk line, which uses un-dyed wool in such tufted designs as tribal, geometric, abstract and traditional.
The quality of machine-made rugs stepped up this market, bringing more introductions at affordable price points. "Machine made in general has been elevated," said Katie Stewart, director of product development, Dynamic Rugs, with so many yarns and techniques to try. "It's a new frontier." Dynamic's introductions include Quartz, machine made of viscose and an exclusive polyester that feels like wool.
Capel launched lifestyle packages to help contain retail freight costs. The packages offer retailers rugs in three themes—traditional, casual or contemporary—and the freight cost is capped at $100 each. The Contemporary group offers 13 5-by-8 designs for $1,835, the Traditional group features nine 5-by-8 designs for $1,389 and the Casual group offers nine designs—most in several sizes for a total of 18 rugs—for $1,878.
Surya highlighted five themes, including one new one for Atlanta—white on white. The others—showcased in the company's catalog as well—were Island, Botanist, Minimalist and Utilitarian, and Surya highlighted these themes in cross-merchandised vignettes.
Printed looks also cropped up at market as printed technology has improved. Surya showed Bukhara, which features printed designs on nylon.
Dynamic Rugs loomed PET yarn for a different look and lower price point in its new Elements collection. Usually PET yarn is not loomed or tufted, said Stewart.
Handknotted designs continued to debut, including the Art Nouveau collection from Safavieh, which had traditional floral designs in neutral colors with pops of color.
Harounian Rug International highlighted Avalon, which has four abstract and three transitional looks handknotted in India of New Zealand wool with silk highlights. Harounian also debuted its newest catalog, which is available in print and digital versions.
Among the vintage looks was Weathered Treasures from United Weavers, which has a washed out look made of polypropylene and polyester, for a hi/low look.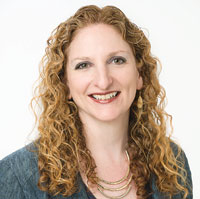 Andrea Lillo
|
Senior Editor
alillo@hfnmag.com
Sponsored: De'Longhi Unveils New Products Across Home at the Houseware Show

   More Videos
Tweets by @HFNmag