Annie Selke Debuts Furniture Collection
New line includes beds, sofas, ottomans, chairs, upholstery and textiles designs
Posted on 
February 23, 2016
 by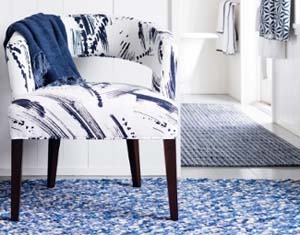 A chair from Annie Selke's custom furniture line

PITTSFIELD, Mass.-The Annie Selke Companies has set the launch of its custom furniture line, Annie Selke Home, for March 1.
The collection includes 24 styles of beds, sofas, ottomans and chairs; 37 upholstery choices; and 16 exclusive Annie Selke textile designs, developed to coordinate with the company's bedding and rug collections. The company also will offer statement-making art prints, locally crafted tables, and indoor/outdoor furniture.
"We each have a unique vision of what will make a home into a haven," Selke said. "We're all after self-expression in our homes. That's why we're so pleased to offer our new customized furniture line, alongside our other collections—it's the complete package."
The Annie Selke Companies are comprised of several brands all created by Selke. These include Pine Cone Hill, which makes bedding, sleepwear and other textiles; Dash & Albert, which offers area rugs; Fresh American, a collection of home products and accessories based on the decorating concepts in Selke's book, "Fresh American Spaces"; and Annie Selke Luxe; a collection of luxury bedding and accessories.
advertisement