Back to College: Best in Class
Retailers have prepared their home furnishings assortments for a promising back-to-college shopping season
July 31, 2015
, 
By David Gill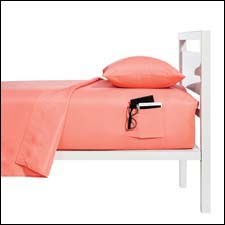 Target's Room Essentials brand offers these twin sheet sets, with pockets that can store notebooks and pens and pencils. target.com
The writing is on the chalkboard for strong home furnishings sales in this year's back-to-college shopping season.
Families of students readying themselves for classes at the nation's colleges and universities will be out in full force looking for products to furnish and decorate their children's dormitory rooms, according to the National Retail Federation. In a survey conducted for NRF by Prosper Analytics, college shoppers will spend an average of $126.30 on dorm or apartment furnishings during this season, up 30 percent from the average in last year's survey.
Jack Kleinhenz, NRF chief economist, said the fundamentals are in place for a healthy season—including a robust jobs market, an improved housing sector and easier access to consumer credit. "Heading into the back-to-school season and through the remainder of the year, consumers should find the appetite to spend," Kleinhenz said.
Judging from the expected cargo volumes at the nation's major retail shipping ports, retailers are amping up for a strong season. The Global Port Tracker report, a monthly offering from NRF and Hackett Associates, projected a 7.3 percent increase in import volume for July, to be followed by a 5.5 percent gain in August.
NRF said a good deal of the added volume is coming from retailers stocking up for the overall back-to-school season. "Now that West Coast ports have recovered from the congestion caused by the recently settled contract dispute, retailers are focused on the back-to-school season to ensure that parents can find the supplies and clothing their children need for the fall," said Jonathan Gold, NRF's vice president for supply chain and customs policy. Gold was referring to the new five-year contract ratified by the International Longshore and Warehouse Union and the Pacific Maritime Association, which ended a protracted dispute that led to slowdowns in cargo handling at the West Coast ports.
To help merchandise this growing stream of products, some retailers are using their websites as resources for back-to-college shoppers. Walmart is servicing these consumers by enabling them to create "wish lists" on walmart.com, according to John Forrest Ales, a spokesman for the retailer. "Consumers can design their dorm rooms on walmart.com, share their wish lists with their friends and either shop the store or have items shipped to a store near their school," Ales said.
Among the products that rank high on these wish lists are lamps and shades, reversible bed sets and top-of-the-bed items, decorative accents and coffeemakers, Ales said. "We also focus on how customers can maxmize their dorm spaces, which of course tend to be small," he said. Walmart is also spotlighting chairs that fold, storage units with drawers, storage ottomans, mini-refrigerators and other small appliances, and futons.
"Home is really important to us during the back-to-school period," he said. "We try to be the total solution, and students love us for our groceries, electronics and everyday low prices."
"J.C. Penney offers a great assortment of cool, value-packed merchandise for the college-bound student," said Sarah Holland, spokeswoman for the department-store retailer. "Customers can go to our Dorm Shop and find everything to make a dorm room feel like home. Parents can even purchase these items in advance and have them shipped directly to their college kid's dorm room."
Pure-play online retailers such as Overstock.com have also developed a presence in the back-to-college season. Students are offered free membership to the site's Club O rewards program (it normally costs $19.95 to join), and Overstock is also preparing to make the same offering to teachers.
Stormy Simon, Overstock's president, said it is the first time that the site (whose overall presence in the home furnishings market is growing. Turn to page 24 for HFN's Top 50 Home Furnishings Retailers report) has created a back-to-school event of any kind. "Back-to-school is always a family event," Simon said. "Whether you're headed to college, entering kindergarten or starting high school, there's always excitement about that time of year."
But not all retailers are focused on their web offerings to boost back-to-college sales. Target has formed two partnerships—with Betterific, the crowd-sourcing innovation company, and Umbra, the vendor of furniture and accessories—to create an exclusive assortment of furnishings that are geared toward solving space problems in dorm rooms, according to Lee Henderson, spokesman for the retailer.
In addition, through its owned brands, Room Essentials and Threshold, Target has created a line of dorm furnishings in "on-trend colors, patterns and designs," according to Henderson. "We encourage students to explore new styles, whether they're moving into a college dorm or their first apartment," he said.
Henderson added that Target is anticipating hefty sales in categories such as home décor, bedding, storage, bath products, furniture, kitchen and dining products, laundry merchandise and electronics. "We anticipate a busy back-to-college shopping season," he said.
Dorm Housewares Essentials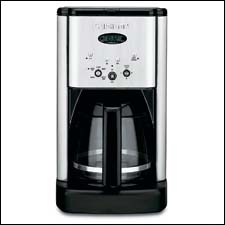 The Cuisinart Brew Central 12-Cup Programmable Coffeemaker is being positioned for the back-to-college consumer. cuisinart.com
What would a dorm be without those shareable
housewares
essentials such as popcorn poppers, coffee machines, blenders, and mini-refrigerators and microwaves? These useful housewares can often make the difference between a college student eating or not eating breakfast, or making it through an allnighter—studying or otherwise.
Small electrics have emerged as a key category for back-to-college sales with many retailers including Target, Bed, Bath & Beyond and Kohl's, for example, offering shopping checklists for college-bound students in its back-to-college section. In its back-to-college section, Target is offering coffeemakers, microwaves, toasters, vacuums, home-comfort products and just about any housewares category that needs electricity to run.
According to Sensio, manufacturer of the Bella brand of small electrics, the back-to-college season is a crucial part of its strategy geared toward millennials. "Bella continues to see strong sales during the back-to-college period as it continues to target the millennial consumer by providing great value via relevant SKUs and on-trend design aesthetics," Sensio said.
Bella has incorporated products into its lineup intended for both dormitory rooms and off-campus apartments. For the former, the Bella Dual Brew Coffee Maker is a two-in-one single-serve coffee system capable of working with both portion cups and ground coffee. Its compact size and adjustable drip tray, which accommodates both standard and travel-size mugs, make it ideal for small spaces such as dorm-room countertops.
One reason that small electrics has become a forefront category is today's dorm rooms offer more opportunities for students to prepare their own food, rather than having to sign up for a meal plan. "Because housing facilities have improved dramatically over the years, students often have the ability to cook on campus," said Mary Rodgers, director of marketing communications for the Cuisinart and Waring brands of Conair.
As a result, according to Rodgers, blenders and slow cookers have moved up the popularity scale as products for college students. That being said, "coffeemakers continue to be the most sought-after small electrics in the back-to-college market," she said.
The Cuisinart Brew Central 12-Cup Programmable Coffeemaker has a look that speaks to millennials, with its brushed metal finish and technology-industrial-inspired design. It is also compact and programmable from the start of the brewing cycle to the finish.
Currently, Cuisinart is testing marketing efforts toward college students through social media. "This is a space in which they are extremely active, and one that will help us to better understand the wants and needs of this demographic," Rodgers said.
The other segment that is rip-roaringly popular with college students is hydration bottles, both for the fashion and image statement they make as well as the functional purpose they serve.
A growing number of colleges have banned disposable water bottles from campus, according to Todd Starr, vice president of marketing and product development at Contigo, a Newell Rubbermaid business, which creates a big market of eco-savvy consumers interested in reusable water bottles. Carrying a water bottle to class makes a small difference to the environment as well as a statement, Starr said. "Water bottles are the badge of an intelligent decision."
Water bottles are proving to be more popular with college students than travel mugs, according to Starr, because while everyone drinks water not everyone drinks coffee. "We certainly see retailers devoting promotional endcap space to the category [roughly three-quarters water bottles and one-quarter travel mugs]," he said. —David Gill, Maureen Azzato and Allison Zisko
Furniture & Lighting: Compact, Colorful Furnishings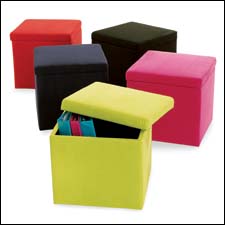 Available at Walmart, the Mainstays Collapsible Storage Ottoman is a space-saving item for dorm rooms. walmart.com
Today's college dorms are a far cry from the drab cinder-block cells from days gone by, and the common areas of many college campuses are fun, colorful and lively. In fact, common areas often are brightly painted, featuring accent lighting, colorful rugs, and functional and mobile furniture that can easily move around and change shape and form.
To meet the needs of this generation of students who, well, have the need to individualize almost everything they touch, retailers are offering an array of products to satisfy their fashion sense and demand for functional and fun furniture and décor for their dorms or starter college apartments.
Given the tight spaces that still prevail in most dormitories, retailers are featuring compact and functional furniture from the likes of Surya, Safavieh, Office Star Products, Linon, International Concepts and Office Star Products to name a few. Popular products include accent tables and stools, poufs and ottomans (that can also double as storage bins and/or media centers), butterfly chairs and bean bag chairs, and anything that supports studying and computer work such as multifunctional desks, chairs, shelving, reading pillows and lapdesks.
Lighting is another must-have for college students—especially with late nights of studying ahead—and the category provides both fashion and function. Again, bright colors are among the offerings in the category, as are more basic black, white or metal finishes. But more and more table lamps are also incorporating outlets and USB ports on their bases for this mobile-friendly group.
And being health conscious, today's college-bound youth may find the new faux fur covered Yogaballs from Best Home Fashion a real head turner, as well as a good workout for back and ab muscles. The Yogaballs can also double as computer chairs to relieve back stress. "No more bright green or blue Yogaball's in the dorm or office," said Julia Ha of Best Home fashion. "Our faux fur Yogaballs are extremely soft, fun, and comfortable. They improve your posture, bring awareness to your back, make you sit up straight and strengthen your core all at the same time without even noticing the wonderful effects happening to your body just by sitting." The Yogaball includes a stand that allows users to sit at their desk comfortably without movement, if desired. The stand also provides a place to park the ball when not in use so it doesn't roll around the room, keeping the area neat.
Furnishings for the college bound also extend to the floor, as brightly colored rug designs in easy-care looks—all at an affordable price point—are popular among this group. "Brighter colors and more contemporary themes perform best," as do price points of $39.99 and lower, said Jonathan Witt, senior vice president, Oriental Weavers. "College students are gravitating to tonal geometric looks. Shags also perform well with this segment."
Oriental Weavers also finds that this group doesn't necessarily need specific designs, as the "adult" looks also work. "Some retailers have moved the design direction to more juvenile and tween styling as college kids have stepped up buying and are capable of purchasing opening price point rugs from the everyday assortments," Witt said.
Kate Koesterer, sales/marketing executive at rug resource Nuloom, added, "It seems as though for the average collegiate, most will gravitate towards anything practical and low maintenance. They will choose items that are interesting and strikingly on trend, but will easily transition throughout the seasons."
Contemporary rug patterns such as geometrics remain popular with this set, Koesterer said, but subdued attention-grabbing colors are up and coming. "We see this best with our remade vintage pieces where old school influences products being made today," she said.
Online shopping has extended greater variety of home décor options to college bound students. "Style has not been sacrificed and budget friendly items have been brought to the forefront," Koesterer said. "With emerging companies like Nuloom, area rugs are being made to emulate lux and glamour design without breaking the bank." —HFN staff report
Soft Textiles for Soft Landings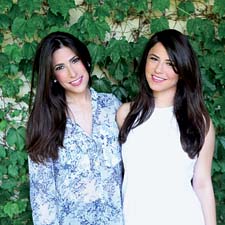 Rachel and Lisa Fishbein, daughters of Dena Fishbein, are the design forces behind WestPoint's Haute Girls bedding collection. westpointhome.com
Given that so much back-to-college shopping involves soft home products, it has now become a crucial part of the textiles industry's calendar year. Clearly, retail customers have stressed the importance of this period to their textiles vendors. "Back to college is, for some retailers, as important as the December holiday season," said Keith Sorgeloos, president and CEO of Home Source International. "Plus, this back-to-college season should be very strong."
Home Source has prepared a product story for back to college emphasizing that it is "made in the USA," through a tandem supplier to the company, Sorgeloos said. "We will also have an array of towels for key retailers," he added.
WestPoint Home is preparing a new brand, called Haute Girls, which will be part of the company's Dena Home collection, which will be geared toward college students. Haute Girls is a lifestyle design collaboration between Dena Fishbein, the designer behind Dena Home, and her two daughters, Rachel and Lisa. The brand will consist of bed ensembles in bright colorations and vivid designs.
Back to college is also a crucial sales period for the basic-bedding industry. Pacific Coast Feather recently launched two product lines—the Snuggler, a pillow that is soft and intended to evoke the comfort of home to college students; and the Loves to Be Washed pillow, a durable and washable pillow that is also anti-allergenic, speaking to parents' health concerns for their student-child. "You're talking about a shopping season that is definitely important to us and the textiles industry as a whole," said Fritz Kruger, senior vice president of marketing for Pacific Coast Feather. "Historically it was a supervalue sales event, with price points that were crazy low. In today's world, it's different with quality issues like a Snuggler pillow that is like a grownup Teddy bear and the Loves to Be Washed pillow that speaks to health issues. It's relevant to the bedroom so it's a pretty dynamic opportunity for us."
School pride is an important selling point for back-to-college textiles, according to Stan Mieszkowski, executive vice president of The Northwest, which now licenses with more than 250 colleges and universities for throws, pillows and other products with college and university logos. The pride element touches upon not only students, but their parents and other family members, and friends. —David Gill
Tabletop: Dining in the Dorms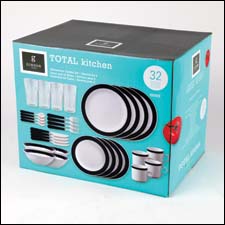 Gibson's Deluxe Essentials 32-piece set gibsonusa.com
Dorm shopping typically entails more trips to the bed and bath departments than the tabletop area, but a few dinnerware makers have nonetheless tested the back-to-school waters. Manufacturers such as Gibson and Tabletops Unlimited, for example, offer simple whiteware in 16- and 20-piece sets with the college-age crowd in mind.
Combo sets have been a steady piece of Gibson's business for more than 20 years, and business has grown as the company has made different configurations available, a Gibson spokeswoman said. "There's no 'magic number' when it comes to set configuration but we've found that sets between 24 and 32 pieces perform strongly," said Grace Saari, senior marketing director. "Consumers respond to the combination sets because they provide an all-in-one solution for their immediate needs." The sets tend to perform stronger at regional retail locations, Gibson said. Gibson has updated the packaging of its popular Total Kitchen sets with a more modern aesthetic. The sets include dinnerware, flatware and glassware for four in one box.
Some retailers have taken the back-to-school sales opportunity to promote solid-color dinnerware sets like Fiesta ware and the Gordon Ramsay Maze collection, or whimsically patterned collections from manufacturers such as Maxwell & Williams and Oneida. In July, J.C. Penney was promoting a Gallery 20-piece back-to-school white dinnerware set for $23.99 as well as 12 pieces of melamine dinnerware for $15.99. Clear glass dinnerware from brands such as Luminarc and Libbey are also part of the mix.
Mugs, which are huge sellers these days, have strong appeal because they can be highly personal as well as really handy when pulling all-nighters. Plastic tumblers are equally useful—and when emblazoned with a college logo, all the more enticing. —Allison Zisko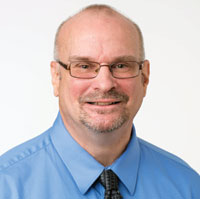 David Gill
|
Senior Editor
dgill@hfnmag.com
HFN's DIGITAL EDITION

May 2017


COVER STORY: HFN Turns 90
We commemorate HFN's 90th anniversary by paying tribute to the iconic retailer and supplier brands--and the people--that have helped the industry flourish, then and now.


ALSO IN THIS ISSUE:

Up & Coming Leaders - The home industry is in capable and visionary hands as this year's 40 Under 40 list attests. Today's young leaders span all disciplines and varied levels of operation.
Omnichannel Retailing - In the Mobile App World, Time is Money

Subscribe to Digital Edition
Tweets by @HFNmag