Conde Nast, HSN To Launch Bon Appetit-Branded Line
Posted on 
January 19, 2012
 by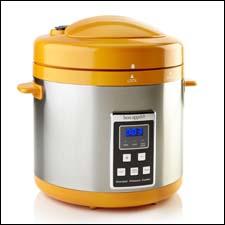 NEW YORK-Publisher Conde Nast and HSN have teamed up to launch an exclusive collection of culinary products under the Bon Appetit label. The collection of cookware, small appliances, cutlery and gadgets will debut on Jan. 31 on all of HSN's sales platforms, including television, online and mobile.
The collection was previewed to the press at an event in the magazine's new test kitchen here yesterday. The cookware is made of 18/10 stainless steel and will include glass lids so the chef can see how the food is cooking, as well as measurements on the inside of the pans, said Mary Nolan, chef de cuisine and launch co-host. In addition, the size of each pan is also on the exterior bottom for easy reference. The cookware will also be sold in sets. "We really included the essential pieces for the kitchen," she said. A three-quart triply saute pan will retail for $69.95, while a 15-piece triply cookware set will retail for $399.95.
The team was very excited about the pressure cooker, which was available in several bright colors. In a 7-quart size, it will retail for $129.95. Launch co-host and HSN collection executive chef Ryan Scott cited the details and the thought that went into the line, such as the pressure cooker's detachable lid, the immersion blender's pop-up handle and the little divet on the cookware's handle to help with leverage. "They held back and said, 'Let's get it right, let's get it right,'" he said. "They got it right."
The cookware is induction, infrared and gas cooktop friendly, he said, and allows for healthier cooking because it generates high heat and lessens the need for added fat. The collection also includes an immersion blender in blue and red ($89.95 each), a grill/griddle ($99.95), a 7-piece knife set ($89.95) and a pineapple cutter ($19.95). New items will be added every other month, and products are vetted in the magazine's test kitchen. In addition, experts from the Bon Appetit Test Kitchen will appear on-air to offer tips, recipes and cooking demonstrations to HSN customers.
This agreement is part of an ongoing relationship that began between Conde Nast and HSN in 2008.