Cost Plus World Market Debuts In New York
The Bed Bath & Beyond-owned retailer focuses on urban style for its first small- format location.
Posted on 
September 16, 2015
 by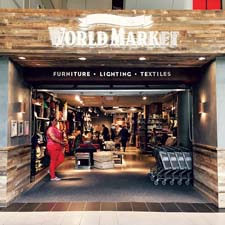 Cost Plus World Market staked its place in New York City last month, opening up not only its first location in the state, but also its first small-format store. Located in Chelsea, tucked within the Bed Bath & Beyond location at 620 Sixth Avenue (Bed Bath & Beyond purchased Cost Plus in 2012) the new store offers an edited assortment of merchandise for city dwellers.
The format is aimed at "appealing to the urban customer," Fred Rancour, senior vice president of store operations, told HFN. With more than 260 locations nationwide, Cost Plus World Market (http://www.worldmarket.com/) is known for its range of home goods, as well as jewelry, and global food and wine. In this new location, however, "it's all about furnishings," said Rancour, and has an edited assortment including furniture, tabletop and such textiles as pillows, window treatments and rugs.
While Cost Plus World Market stores are generally 16,000 to 20,000 square feet, the New York location is 5,000 square feet. Cost Plus' line is ideal for urban living, Rancour said, since its scale is built for small-space living. Also targeting the urban customer is the home delivery program; Cost Plus will deliver anywhere in Manhattan ($9.95 for a small, two-bag delivery within two days, and up to $25 for same-day rush delivery). "This is a pedestrian area. We built the store to appeal to that group," Rancour said.
The store itself has an urban feel, with wood and metal accents throughout, and several customizable programs for categories such as bedroom furniture, seating, desks and lighting.
While most items in the store are available at other locations, this store has one exclusive category: one-of-a-kind rugs. Authenticated to be 50 to 70 years old, the initial group of 10 handmade rugs in the store (as well as an additional 20 online) was "one piece that was missing" from the retailer's rug selection, Terri Daniels, divisional merchandise manager, textiles, told HFN, and more are on the way. "It's also a business that speaks to Cost Plus, as these are found items and global looks." Momeni is the vendor for this program.
Daniels added that overall the retailer is "becoming serious" about the rug category, and it is growing. Before, "we were hit-or-miss in sizing;" now the retailer has more sizes available, as well as larger sizes, she added.
Furniture is spread throughout the New York store, shown in vignettes, on the wall and on freestanding displays. Items includes a set of two Pierceson nesting accent tables ($299.99), the Blanca round white wash dining table ($369.99), the Harlen wingback chair ($279.99) and the Paige dining chair ($199). Both table lamps and lighting fixtures were on two freestanding displays and included a quatrefoil gold pendant ($99.99) and a large wood bead chandelier ($269.99).
Rugs are found at the back of the store and include a 5-by-8 tufted PET rug ($299.99), a 6-by-9 tufted viscose rug ($449.99) and reversible and cotton-like PET printed accent rugs ($19.99 each). Dinnerware is peppered throughout (one black matte and gloss white group included a $7.99 salad plate and a $19.99 serving plate). Other items included full/queen duvet covers in four patterns ($69.99 each), waffle throws ($29.99) and a range of candles, wall decor and mirrors.
For more photos please go to: http://www.hfnmag.com/product-gallery/cost-plus-world-market-debuts-new-york/
advertisement
advertisement
Tweets by @HFNmag