Celebrity Designers: Star Power
The sparkle and intrigue of the world of celebrity designers never seem to fade. New, trendy designers are consistently joining the ranks of well-known home furnishings designers. At the same time, famous designers who have stood the test of time continue to create, inspire--and expand their licensing agreements. Here, we spotlight some of our favorite celebrity designers. --HFN Staff Report
Kathy Ireland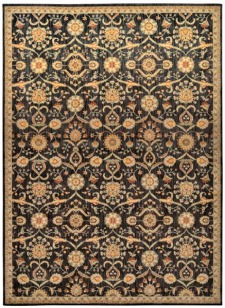 Kathy Ireland's Babylon collection for Nourison is power-loom woven of polyester and incorporates a space-dyeing technique for depth and dimension. nourison.com
While her name leads the brand, designer Kathy Ireland knows who she is working for in the end. "Our customer is our most critical member of our design team," she said. "She gives us our marching orders."
Twenty-one years since Ireland debuted her brand with a sock license, kathy ireland Worldwide has since grown into an empire that encompasses apparel, the home, brides, skin care and more. And she has no plans on stopping. "We're a baby brand," she told HFN. "We're just getting started." However, when choosing her partners, "it has to be the right fit."
Among her numerous licensing partners are Pacific Coast Lighting for lighting, Nourison for area rugs, Martin Furniture for home office and home theater furniture, Therapedic for mattresses and Lenox/Gorham for tabletop. "I work with experts," she said. "We have a business family."
Critical to her home collections are her eight style guides: Aloha, Americana, Architectural, European Country, Far East Dreams, In Russian Style, Ivory Coast and La Vida Buena. Each concentrates on a different decorating theme for the home, and how her licensees design her products, ultimately making it easy for the consumer to coordinate her home decor.
"We're giving women something special," Ireland said. "That's really exciting to me." Among Ireland's target audiences are the working moms, as well as millennials and brides--consumers who are not familiar with Ireland as a model but as a business woman.
Having her start in the modeling industry exposed Ireland to the best designers as well as different cultures, all which influenced her today. But she wants to "make fashion accessible to every woman," she said. "Luxury that is affordable."
"I don't want people to be a slave to fashion," she said. "Fashion needs to serve us--that's how I approach it. How can we make her life better?"
Bobby Berk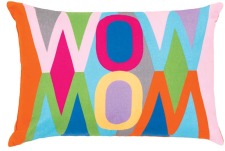 Bobby Berk Home, for Surya, includes pillows and rugs. surya.com
Bobby Berk was once called the designer for the 99 percent. The designer won't argue.
"I liked that," Berk said at High Point Market, showing off his new rug and pillow collection with Surya. "I try to make designs that young families can afford ... And stuff that's going to last."
And stuff that's relaxed and cool.
"I don't like to use the word 'trendy,' but I definitely like to stay stylish," Berk said.
Berk's design sensibilities touch a unique sweet spot from combining midcentury/loft/modern looks, yet remaining comfortable. Think clean lines with soft cushions.
"My grandmother had an amazing midcentury sofa that everyone in the family wanted when she passed," Berk said. "But then we realized that it was like, who can actually sit on that sofa? As a designer I always try to make sure things are comfortable and livable.
"We don't want you to fell like you're in a museum. We want you to feel like you're in a haven."
Bobby Berk Home for Surya, introduced at High Point Market, encompasses rugs and pillows featuring Berk's signature mix of bold colors and modern design.
The designs in the Mod Pop collection are handtufted of wool with carved details. They feature retro designs reminiscent of the '70s with bright pops of color and bold graphic patterns. The Solid Bold collection includes designs with classic minimal forms and clean lines with both vibrant hues and grounded neutrals.
"I wanted to create a line of rugs for people like me who love color, but find it hard to locate great rugs with minimal or cool patterns," Berk said. "My collection for Surya marries simple patterns with amazing colors that bring life to a room without overwhelming the space, all while providing affordable options that don't sacrifice quality or style."
Berk said that his home collection for Surya will grow at the January Las Vegas Market to include flatweave rugs; bedding is planned for a spring High Point Market introduction; and lighting will be added at the Las Vegas Market in July.
Berk is also a retailer with locations in New York and Miami, and a store-opening planned for 2015.
Bob Timberlake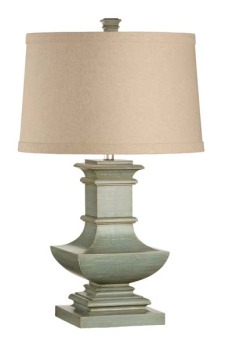 Designer Bob Timberlake's new lighting collection with Wildwood Lamps includes Salem, which was inspired by a turned furniture leg in Timberlake's home. wildwoodlamps.com
Bob Timberlake's history with home furnishings actually precedes his birth, as his grandfather founded the Piedmont Furniture Company in Lexington, N.C., in 1913, a company that grew to five businesses -- including a funeral home, as furniture stores at that time were known to handcraft caskets as a part of their repertoire.
Timberlake joined the family business after graduating from college, though he started painting full time after meeting with and being encouraged by renown artist Andrew Wyeth. Timberlake is known for his realistic painting, depicting nature and life in the South. He is also an avid collector, and his collections include decoys, enamelware, canoes, birdhouses and quilts.
Now, Timberlake combines his true loves -- painting, the outdoors and his Southern heritage -- into a collection of licenses for the home. A lifelong North Carolina resident, it's no surprise that several of his licenses are with North Carolina businesses, including Century Furniture (for furniture), Dixie Seating Company (for outdoor furniture), Longleaf Collection (for hardware), Buck Stove (for hearth and patio) and Earthstone Products (for outdoor living). Regarding Earthstone, "I've known [co-owner Sandy Brady's father] all of my life," Timberlake said. He likes working with people he knows; "it feels like family."
Timberlake's newest licensee is also based in North Carolina: Wildwood Lamps. Introduced at last month's High Point Market, the initial table lamp launch of 17 items is just the start, he said, as accessories, wall decor and fixtures will be added eventually. Items included the Firehorn lamp, which combined metal with a concrete look and is one of Timberlake's favorites among the group, and Seagrove, named for the North Carolina city known for its pottery. Another item incorporates a quill shape, which is Timberlake's signature motif, while a ceramic item has the Chinese symbol for friendship integrated into the design.
This summer, Timberlake also debuted his new rug collection with Mohawk Home, and which includes contemporary, traditional, transitional and lodge styles. The line consists of several constructions: woven rugs made of soft, renewably resourced SmartStrand, rugs crafted of Permastrand, printed nylon rugs and braided rugs.
This last High Point Market marked Timberlake's 48th, and he still loves the excitement it brings. "It's like Christmas Eve to me," he said. Though he turns 78 years old this January, "I can't imagine retiring."
Candice Olson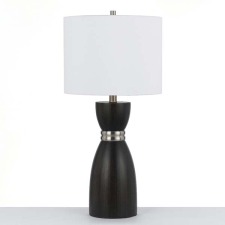 Candice Olson's Reese table lamp for AF Lighting. aflighting.com
Candice Olson was easily one of the busiest designers at the recent High Point Market. From well-attended speaking engagements to appearances at showrooms exhibiting her new collections with companies including AF Lighting, Century and Highland House, Olson was very much in demand.
Olson is known for combining the current with the traditional to suit contemporary lifestyles.
"As a designer, I find enjoyment in taking an inspiration from the past and giving it an attitude that's very today," Olson said. "I like to refine and redefine classic designs to suit today's more contemporary lifestyles and then stylize them with unexpected scale, graphic pattern, luxurious texture or other fashion-forward elements to give them present-day personality."
AF Lighting unveiled 21 new Candice Olson lighting creations at last month's High Point Market.
Along with a handful of additions to her existing collections, Olson unveiled several brand new lighting designs, including the pieces of her Aura Family. This table lamp, pendant and sconce combo creates a modern look by combining matte black wood with an antique brass edging. Due to handcrafting, no two are alike. Also new is her natural elements collection. These portables are handcarved in dark espresso wood, strikingly accented with spun metal accents in brushed silver.
"There is, without a doubt, a prevalence of all things that shimmer and glisten this season," Olson said. "So, whether it's glittering dresses or glossy plastics, it's all about highly reflective surfaces. Too much is never enough!"
Olson also unveiled an outdoor collection for Century. Casual yet contemporary, the collection emphasizes comfort and function.
Olson's furniture collection, Icons, for Highland House, "delivers a look that is current yet timeless, fresh yet familiar," Olson said.
The Pioneer Woman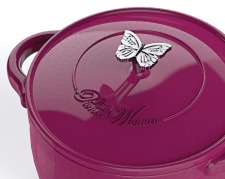 The Pioneer Woman cast-iron cookware. gibsonusa.com
Forty five-year-old Ree Drummond, better known as The Pioneer Woman, is a blogger, Food Network television host and cookbook author who lives on an Oklahoma ranch with her husband and four children and posts recipes, photographs, remodeling tales and stories about her husband, kids and dog on a regular basis. Her folksy, whimsical, down-to-earth manner has earned her legions of admirers, including more than 2 million Facebook fans and almost 500,000 followers on Twitter. She generates roughly 6 million unique impressions, according to Gibson, which recently signed a license agreement with Drummond to produce an extensive line of products to prep, cook, serve, dine and entertain outdoors with, and Gibson couldn't be happier. When Drummond announced her upcoming line with Gibson on her Facebook page, the posting was viewed by more than 5 million people and generated more than 10,000 comments from those eager to see the collection, according to Gibson.
"You couldn't ask for better advertising," said Grace Saari, Gibson's director of marketing. Gibson will hand-select some of Drummond's fans to be part of its focus group, she added. The products will launch at the International Home & Housewares Show in March.
"You will not find a more down-to-earth, accessible, flexible, hard-working individual than Ree," said Saari. "She is so passionate and so close to this line ... the beauty of this line is that it is Ree's story."
Monica Pedersen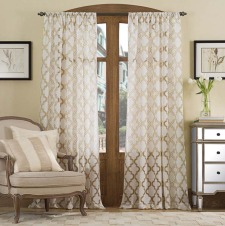 The Belden drapery from Monica Pedersen's Softline collection. softlinehome.com
"Keep it simple" is the design mantra for Monica Pedersen, who has been a featured player on HGTV's series, "Designed to Sell" and "HGTV Dream Home Giveaway," along with appearing on "The Today Show" and other programs on a number of networks.
Pedersen's television work has carried her to two key home furnishings collections, both of which formally launched at the Las Vegas Market in January. Abbyson Living unveiled the Monica Pedersen Furniture Collection by Abbyson Living, a line that encompassed 25 SKUs in its debut. Meanwhile, Softline Home Fashions used the Vegas show to introduce its Monica Pedersen for Softline Make It Beautiful collection of window treatments and decorative accessories.
When creating a design, Pedersen underscores the comfort level of each piece. In furniture, she said, "I like pieces that are functional but with a softer touch. I also like things that are on a smaller scale in leather and upholstery."
As examples, she cited barstools, slipper chairs and settees. "These are simple furniture pieces that have functionality in both apartments and houses," she said. "I'm not about McMansion-sized furnishings. I'm about furnishings that work within your space and that you can add to without crowding your space."
Pedersen's color palettes are equally uncomplicated. "I work with neutrals and soft colors," she said. "These are versatile and comfortable colors, and they look great."
Affordability is also a key focus for Pedersen when she designs. "My pieces are super-affordable," she said. "I'm not a design snob. And a lot of affordable furnishings were overdone and too big. They made for cramped spaces and visually they didn't feel good. I did design a couple of sectionals, but I want people's spaces to breathe."
Pedersen's window treatments also reflect her belief in simple designs in soft colors ... although, she said, she is looking to expand her design scope in these categories. "My next collection, which will be introduced in January, will feature a greater selection of colors and more fabrics," she said. "You'll see overscaled patterns with linen grounds and more solids. But the color palette will remain mostly neutral."
Pedersen is also looking to expand her reach in other ways. She is currently seeking manufacturing partners for collections of bed textiles and bath products. "These will be natural extensions for me, especially for designs that coordinate with the window treatments," she said.
Donny Osmond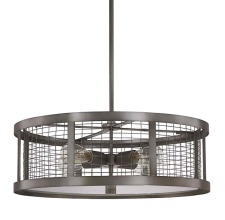 Donny Osmond's new lighting line, which includes this mesh fixture, will debut from Capital Lighting Fixture in January. captiallightingfixture.com
After 50 years in show business, Donny Osmond has entered the home furnishings business, and in a big way. Since first announcing his brand -- Donny Osmond Home, which he heads with his wife Debbie -- last year, the musical icon now has 17 licensed collections, ranging from decorative fans to door hardware, portable lighting to pre-plumbed shower spas. And more will come next year, he said.
Osmond appeals to many generations, who grew up watching him sing with his sister Marie Osmond on television, as well as more recently, when he won ABC's "Dancing with the Stars" in 2009. And he still performs as well, gaining new fans. "At my concerts, the age demographics range from 20 to 99," Osmond told HFN. "I think my following broadened a lot after winning 'Dancing with the Stars.' So I'd like to think that my target audience is a very wide age range."
This year, his collection launches included A&B Home for decor and accents, Boston Warehouse for canvas wall art, DecoBreeze for decorative fans, Kas for area rugs and Lampworks for portable lighting. In January, Capital Lighting will launch the brand's hard-wired lighting line and King Koil its mattress line.
Osmond said his design aesthetic "is classic, organic, and transitional. Debbie and I like to use real woods, cotton fabrics, clean lines and styles that will stand the test of time but feel new and unique." While it is hard to pick out one favorite item from among his licensed collections so far, he said, Osmond does like an oval bookshelf--it "really makes a statement in a room"--his chain-link chandeliers, which "are unique and have a cool look to them"--both from A&B Home--and a Lampworks blue seeded-glass lamp "that reminds me of California." In addition, "I do also like my fans [from DecoBreeze.]"
Osmond's favorite current home furnishings trend is "the mix of eras such as midcentury, with modern and traditional," he said. "We have a new sofa coming out that has a midcentury vibe to it that looks fantastic with our more transitional decor. That mix of styles is exciting and allows for incorporation of the past and present."
His line is also similar to what one would find at the Osmond home, he said. "Everything has a very comfortable, family-friendly feel to it," he said, and which include classic furniture profiles, lots of whites and creams, blues and wood tones. In addition, "we have grandchildren over a lot, so no precious furnishings that they can't touch," he said.
Angelo Surmelis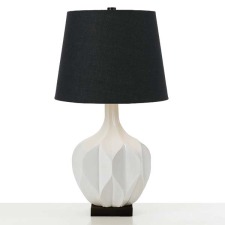 Collinwood is crafted in black or white resin with contrasting colored shade in poly/linen. aflighting.com
The freedom to express one's style -- while on a budget -- is what energizes designer Angelo Surmelis when he's designing his collections for the home.
"Finding new ways to bring style and quality at a low price is what continues to drive and inspire me," Surmelis said. "I really want affordable furnishings to exceed expectations."
Surmelis calls his design esthetic eclectic, he said. "I get nervous when I walk into a space that is all one style," he said. "I love to mix things up and have a room/home tell a multilayered and rich story." And people are feeling empowered. "One of my favorite things that I am seeing more and more of is our customer asking advice about mixing fabrics, patterns, styles and colors in a single room," he said. "They are cool with everything not matching and I love that kind of fearless decorating!"
Through his company angeloHome, Surmelis has a number of licensed lines, including area rugs with Surya and lighting with AF Lighting. At last month's High Point Market, Surmelis expanded his line with AF Lighting with two new collections, Avondale and Collinwood, which feature pastels and black-and-white combinations, respectively, along with other additions. This year, under his new brand for apartment living, called apartment AH, it launched its new licensed line with Walker Edison (for accent tables, shelving and desks).
Surmelis has other product categories he'd love to tap into as well. As he already designs dining sets and bar stools, "I'd love to expand into tabletop and kitchen/cookware," he said. "I am big lover of food and cooking. Growing up in and around the restaurant business, food and cooking are a natural expression for me."
Calvin Klein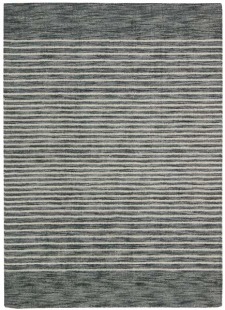 Calvin Klein Home's Mesa rug, from Nourisonnourison.com
Chances are the first time you saw a photo of Calvin Klein, the designer was in a white T-shirt, probably wind swept, possibly on a boat, maybe smoking a cigarette.
Calvin Klein's iconic, sophisticated-yet-cool style continues today in Calvin Klein Home, a licensed grouping of home furnishings including rugs, furniture and bedding.
These items are designed to reflect relaxed elements for the home. Calvin Klein Home takes a complete lifestyle approach to living, the company said. Calvin Klein Home's modern designs are created for the contemporary lifestyle with subtle pattern and colors for creative expression.
Nourison's latest Calvin Klein Home rugs perfectly reflect the designer's casual, yet sophisticated, style. Introduced at High Point Market, the Calvin Klein Home Mesa collection is made of a handwoven jute and bamboo fiber (rayon) blend. A mix of eco-friendly fibers creates a textured aesthetic. This handwoven collection features hand-dyed yarns in clean, neutral tones.
The Calvin Klein Home Tundra collection is made of 100 percent wool pile. The rugs are artfully striped in a sophisticated range of cool to warm neutral tones. The rugs are handloomed in a loop pile and then tip sheared for additional texture. Space-dyed yarns create subtle variations of color to enhance stylish striping.
Also at High Point Market, Calvin Klein Home Furniture highlighted the radiant accent table, an architectural side table made from just three sheets of precisely formed and joined sheet steel. The Halo Dining table is an open and airy pedestal base of a dual finish/dual material table supporting a round top. The base is constructed of solid American black walnut in a saddle finish.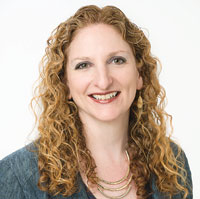 Andrea Lillo
|
Fashion Editor
alillo@hfnmag.com
Von Tobel Cites Brass Textures Among Top Trends

   More Videos
Subscribe to
HFN Omnichannel
Receive the news you need to know about the trends in the industry delivered right to your inbox.


HFN's DIGITAL EDITION

September 2017


COVER STORY:

2017 State of the Industry Report
Cautious Optimism, Mixed Results

Many expected 2016 would be a banner year, but the political and economic climate softened consumer confidence. It was also a year consumers spent more lavishly on home remodeling rather than decorating.


ALSO IN THIS ISSUE:

TJX Unveils First U.S. Homesense Store - In a time when retailers are reducing store counts, TJX continues to get physical.
Ikea's Fluid Spaces - The retailer's new intros reflect multifunctional rooms.
N.Y. Home Fashions Market Preview - Textile textures get soft and cozy, colors warmer.

Subscribe to Digital Edition
Tweets by @HFNmag