Company Store, Domino Partner on Textiles Line
Four collections introduced on The Company Store's website
Posted on 
September 8, 2016
 by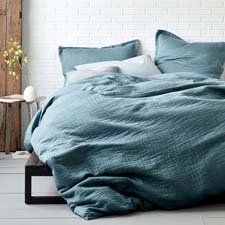 A duvet cover in the Vernon collection

WEEHAWKEN, N.J.-The Company Store has teamed with Domino magazine for a line of bedding and accessories, called domino by The Company Store.
The launch on The Company Store's website encompasses four collections: Landscape, inspired by vintage t-shirts and made with organic cotton; Vernon, a duvet cover grouping designed in muted colors and rumpled textures; Randall, which includes ensembles designed with rows of handpainted "lozenges"; and Artist Leaf, bed ensembles designed with artistically rendered leaves in tonal colors. The Company Store and Domino worked together to create collections that feature soft, natural materials and creative designs to generate a simple, laid-back aesthetic, according to a statement.
Pricing for coverlets in the Landscape collection range from $159 to $219. Duvet covers in the Vernon collection range in price from $34 to $189. Randall duvet covers are priced at from $99 to $129, and duvet covers in the Artist Leaf group range from $89 to $119.
"Our collaboration with The Company Store has enabled us to bring beautiful, well-priced bedding and accessories to consumers seeking a more casual, comfortable bedroom look—a look that is so Domino,'" said Beth Fuchs Brenner, chief revenue officer at the Domino Media Group. "The magic of the collection is in the mix of textures and patterns as the pieces all work seamlessly together."
advertisement
advertisement
Tweets by @HFNmag