Opinions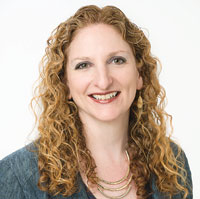 Blog: From Donny to Downton, a Grumpy Cat to "Cliff": Celebrity Happenings in Atlanta
The new year kicked off in Atlanta last week--and the International Gift & Home Furnishings Market itself had plenty of celebrity buzz.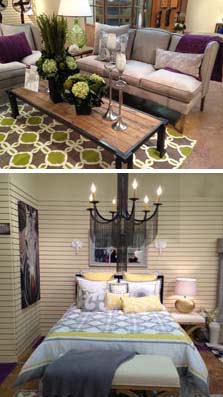 Donny Osmond Home currently has 12 manufacturing partners.
Music icon Donny Osmond and his wife Debbie talked to HFN about purple socks, Weird Al Yankovic--and Donny Osmond's new home collection. Having launched products with 11 manufacturing partners in Atlanta--from floor fans to furniture--the Osmonds called the journey, which has been several years in the making, fun. Though there will always be bumps, Donny said it helps if "you surround yourself with successful people." Debbie added, "We've been careful about our manufacturing partners."
Indeed, Kas--Osmond's 12th licensee--was surprised to get contacted about working with the Osmonds after a chance meeting at a party. The Osmonds liked the fact that Kas was a family-owned business, (family and home are two important themes for the Osmonds, who have five children and six grandchildren). And Donny said he relished the opportunity to work with his wife.
Calling their style contemporary casual and transitional with modern touches, Osmond's design style is "always evolving, including my career," he said. Though the products don't have a rock 'n roll feel (nor a little bit of country), they do include purple items, an ode to the purple socks Donny was known to wear earlier in his career. Even the logo is purple. And that mention about Weird Al Yankovic? Donny's vigorous dance moves in Yankovic's "White & Nerdy" video were totally impromptu, he said. "The producers' mouths dropped open."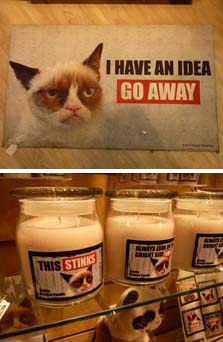 The Grumpy Cat line provides uplifting messages and includes candles.
One celebrity who couldn't speak to the press even if she wanted to was Grumpy Cat, the Internet feline phenomenon who now has a new giftable line with Ganz. The cat--who's name in real life is Tardar Sauce (and she's a she)--is known for her unique, unforgettable face next to such phrases as "I had fun once, it was awful" and "I have an idea: Go away"--had tons of fans in Atlanta. Ganz gave a conservative estimate that more than 1,000 people lined up to see her. The new products include plush toys, jar and votive candles, coasters and mugs and more.
Tervis hosted the affable John Ratzenberger, known for his role as Cliff on "Cheers." Ratzenberger, who was very friendly with attendees, is developing a new show, "John Ratzenberger's American Made," which will feature small batch local manufacturers, new brands and household names in the U.S. Tervis will be featured in one of the first episodes.
Heritage Lace crossed the pond, so to speak, with the launch of its new licensed line with the popular British series "Downton Abbey." The Atlanta showroom was redesigned to reflect the two sides of the manor house--the upstairs, where the family lives, and the downstairs, where the staff resides. There were actors dressed in period costume, and Heritage Lace's president, Dan de Cook, wore a tux for the occasion.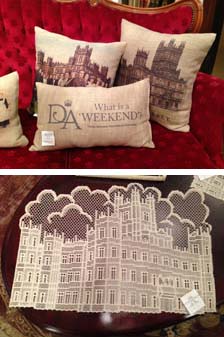 The Downton Abbey home is the highlight in this Heritage Lace item and the line includes decorative pillows.
The line reflects several characters from the show. The "downstairs" part of the line, which includes items such as kitchen towels, placemats, window treatments and fabric baskets, is influenced by the characters Mrs. Hughes, the head housekeeper, and Mrs. Patmore, the cook. Three of the family's female characters--Lady Mary, Lady Cora and Countess Dowager--influenced the upstairs line, which includes textiles, ladies' accessories, linens and other items. The lace items are made in the U.S., and much of the line overall is ready to ship. Heritage Lace is celebrating its 30th anniversary this year. -Andrea Lillo