hhgregg Sales Dive in Q3
Home furnishings sales gain 3 percent
Posted on 
January 6, 2016
 by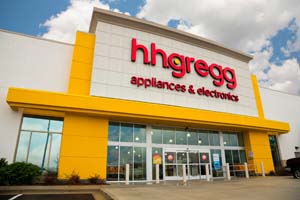 INDIANAPOLIS-Third-quarter net sales for hhgregg fell 11 percent to $593 million, according to a preliminary report from the electronics and home-products retailer.
Same-store sales decreased by about the same 11 percent, hhgregg said. The main drags on the top line were computers and tablets, down about 35 percent on a same-store basis; appliances, down 10 percent; and consumer electronics with a 8 percent drop. Home furnishings posted a 3 percent gain on a comparable-store basis.
"During the quarter, we were challenged by the competitive pressures in the market," said Dennis May, hhgregg's president and CEO. "Although we are disappointed with our overall performance during the quarter, we are pleased with many of the strategic investments we have made for our transformation. Our investment in the furniture category drove an increase of approximately 16 percent in furniture comparable store sales during the quarter."
In 2014, hhgregg posted home furnishings sales of $465 million, making it the 66th largest U.S. retailer of home furnishings on HFN's list.
advertisement