Home Licensing Boom
From celebrities and fashion designers to media brands and iconic institutions, licensing is taking the industry by storm
June 8, 2016
, 
By Maureen Azzato
The resurgence in home licensing over the past year has been palpable with several new partnerships announced monthly. While new licenses typically spawn before big markets and trade shows, this year has seen a steady steam of new collections from the likes of Donny Osmond Home, Joanna Gaines and Rachael Ray, to Trisha Yearwood, Kathy Ireland, kate spade new york, Martha Stewart and more.
What's driving the growth? "Success. Manufacturers are understanding that brand identity affirms an established relationship with customers," said Ireland, chairman and CEO of kathy ireland Worldwide. "Celebrity endorsements don't always last, but brand identities survive and thrive."
More celebrity licenses, in particular, are crossing over into other home categories after establishing firm ground in their core segments. Trisha Yearwood, for one, began licensing several years ago in the
housewares
category and has since reached successfully into indoor and outdoor furniture,
rugs
and home accessories. Likely hoping to follow a similar path, Rachael Ray this year introduced a furniture line after years of established traction in housewares and tabletop. Some brands, such as kate spade new york and Better Homes & Gardens, stayed with one category for nearly 10 years before delving into others.
In addition to category crossovers, some new celebrities have entered the fray, especially in textiles, including Ellen DeGeneres, Kelly Ripa and Larry King.
"We have all seen the resurgence of licensing in the home furnishings industry over the past 12 months," said Deb Wallace, brand manager for Donny Osmond Home. "It was much more difficult when I first started approaching the industry five years ago. Manufacturers had become very jaded by previous licensed brands that had not proven productive."
Many manufacturers now understand the value of a strong license partner that can provide immediate brand identity and an emotional connection to the consumer.
"It's very expensive for a company to build a brand on its own. Licensing allows a brand to hit the ground running because it skips many of the steps in brand building through the recognition of the name," said Marty Brochstein, senior vice president for the International Licensing Industry Merchandisers Association. "A license, like all brands, is based on emotion. It's worthless unless it evokes some kind of emotion, such as trust or an identification with something. Ellen DeGeneres' fan base trusts her judgment on products. Martha Stewart has an identification based on her design aesthetic. The name and the brand gets attention, but it has to be a design that consumers like as well."
If there is one cautionary tale in home licensing, especially among those that cross over several categories, it's that each category has to be considered and treated distinctly, according to industry insiders. While there should be a common design thread or brand element that shows up in each category—and, of course, logos and packaging should be consistent—each has to be approached separately and deliberately.
Home licenses today cross over so many genres and include more than celebrities, fashion designers or media brands. Even places and institutions, such as Colonial Williamsburg and Biltmore, are resonating.
"Consumers exposed to so many design directions in today's interconnected world ... creates the opportunity for a wider variety of licensed collections that allow shoppers to connect with people, places and institutions they trust," said Kris Fischer, director of product licensing for the Williamsburg brand, Colonial Williamsburg Foundation. —Allison Zisko, David Gill and Andrea Lillo contributed to this report.
kate spade new york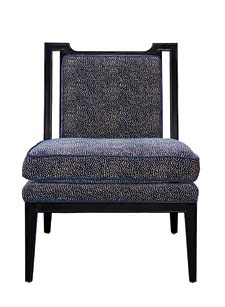 Kate spade new york's Stillwell Lounge Chair by EJ Victor. ejvictor.com
Home is a big passion for Debs Camplin of kate spade new york. "It is my true love," she said. When she arrived at the company from Banana Republic eight years ago, the brand already had a strong tabletop line with Lenox (Lenox posted the biggest
market
share gain in 2015 in tabletop for increasing kate spade new york dollar sales by nearly 16 percent, according to The NPD Group). It served as a jump-off point for the rest of home.
The company did not want to delve further into home until it knew it could offer something new and fresh and different, said Camplin, senior vice president of home design. Kate Spade, the person, has not been associated with the brand for almost 10 years. "We wanted to go in loud and proud and be an outstanding lifestyle brand. It was a lot of work, a lot of planning, but it was worth it. We were very focused from the beginning."
The kate spade new york brand now encompasses tabletop, housewares (which it sources directly), furniture with EJ Victor, rugs with Jaipur Living, lighting with Visual Comfort, bedding with Himatsingka, kitchen textiles with Town & Country Living, and fabrics and wallpaper with Kravet. With a background in fashion accessories, Camplin said she knew each category had to be approached differently. "We didn't know what you could or couldn't do, so we took each category and had fun with it." She credited her license partners for their support and collaboration. "We challenged everybody," she said. "If we made a mistake, we admitted it and moved on."
Virtually every kate spade new york home item has what Camplin calls "the Kate Spade twist"—a little design element, such as a bow or a witty phrase, that is uniquely kate spade new york and makes its followers smile. "We always use color," Camplin said. "We always use spots and stripes and bows. We look at what people want and respect from the brand and go a step above that." An example would be a writing desk handpainted with black spots. "We try to make sure everything has a part in a girl's interesting life," Camplin said, referring to a target consumer who knows what she wants and is brave enough to try new things. "We like to be the trusted editors."
Camplin said she is pleased with the lifestyle brands she has helped create. "We tell stories really well and the fact that we can tell stories across so many categories and so many price points is a testament to the strength of what we've been able to build, and to have fun doing it." —Allison Zisko
Donny Osmond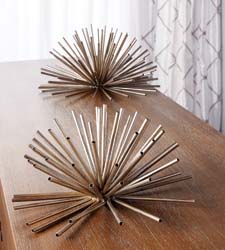 Donny Osmond's Starbursts home décor by Sagebrook Home. sagebrookhome.com
He's an iconic musician, still performing after five decades. But Donny Osmond is also a family man, and through his Donny Osmond Home brand, which he runs with his wife, Debbie, he hopes to help consumers create a haven at home with product from his licensing partners.
His first few licenses included furniture with Coaster Fine Furniture, rugs with Kas Rugs, preserved florals with Bougainvillea and lighting with Capital Lighting. "Their patience is paying off in dividends as we strategically and methodically grow the brand, ensuring that its integrity and longevity matches what Donny has accomplished with his brand over the past five decades," said Deb Wallace, brand manager. From the furniture line, best sellers include the Florence dining table and sideboard, made of solid pine and mahogany wood, and the city-influenced Isabelle collection of seating and tables.
More categories continue to build the brand. DOH added two more at this past High Point Market: Sagebrook Home for decorative accessories and Art Trends for wall décor. "Buyers loved the quality, scale, design and price" of the Sagebrook line, said Wallace. "These decorative accents allow for a beautiful, unchallenging approach to the trendy 'mix and match' design point of view and encourage self expression."
Two other licensed lines will soon be announced, she said—one for outdoor furniture and the other for top-of-bed.
DOH "is executing a sophisticated sales and marketing strategy that unifies all partners for retail distribution and creates total marketing, media and merchandising convergence," said Wallace. "Donny is the biggest asset any brand can have."
In addition, Walker Furniture in Las Vegas became the exclusive retailer in that city for DOH as of last month.
In April, Donny Osmond Home also launched a consumer site—donnyosmond.com. —Andrea Lillo
Trisha Yearwood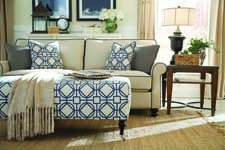 Trisha Yearwood's Tifton collection by Klaussner. klaussner.com
The Trisha Yearwood brand began with the country singer's first cookbook, which she wrote with her mother and sister. The book was a hit and led to two more books and a show on the Food Network. "That success naturally led to a cookware line [with The Cookware Company], then other categories came calling," Yearwood said.
"I have only said yes to the things that made sense," she continued. "I am proud of the relationship with Klaussner Home Furnishings and the Trisha Yearwood Home Collection line of furniture, because it truly represents me and what I love, and I enjoy the relationship with the Klaussner team. That relationship naturally led to the things that go with furniture—rugs [with Natco] and home accessories [with Imax]. It's a complete departure from the music world, but I am enjoying every minute of it."
Yearwood is the common denominator across her extensive product line. "I am very actively involved in everything that I do," she said. "Some call me a control freak—I am—but I don't believe in putting my name on something I'm not actively involved in. From tweaking designs to picking favorite fabrics and styles, down to the shape of the lampshades, I'm in it. I think that's what makes everything feel consistent. My hand is in all of it."
A consistent brand message is not always easy to achieve, Yearwood told HFN. "Just because you're successful in one market, doesn't mean you'll be successful in another. And it's hard to break into new categories. I think the success of 'Trisha's Southern Kitchen' on Food Network gave me and my brand partners the confidence that I do represent the average person. I'm a home cook, I like simple and comfortable. That is really the message across the board in all Trisha branding."
In creating her home line, Yearwood discovered that she and retail buyers tend to have the same taste. "The things that I naturally gravitate toward seem to be the same things that a lot of buyers gravitate toward, and that's a good thing," she said.
Yearwood is content for the moment with the extent of her line. "I feel like I have a full plate," she said. "Of course, when I'm sitting at home dreaming, I think about linens, candles, dinnerware, ha! So, you never know. I feel very lucky to be enjoying some success in these new endeavors." —AZ
Joanna Gaines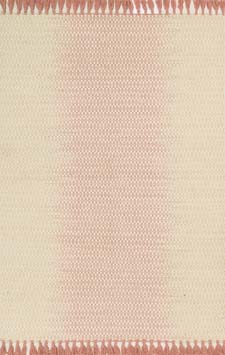 The reversible Chantilly rug offers an ombre look as well as tassels. loloirugs.com
Popular HGTV star Joanna Gaines became one of the newest celebrities to step into the home arena when she debuted the Magnolia Home by Joanna Gaines furniture line with Standard Furniture last fall. That line grew in April at High Point Market where her rugs, pillows and throws debuted with Loloi. She also has licensing agreements with Kilz for paint and York Wallcoverings for wallpaper.
Gaines, who hosts "Fixer Upper" on HGTV with her husband, Chip, had 250 furniture items added to her Standard line at this past High Point Market, along with one new style genre—an eclectic one called Modern—to the initial group of six: Boho, Industrial, Farmhouse, French Inspired, Primitive and Traditional. New bedroom, dining, occasional tables, accents and upholstery pieces were introduced throughout the style genres, including items named for their antique inspirations: School Desk, Baker's Pantry, Postman's Desk and Library Chest. More than 20 products debuted in the Modern genre, which has clean lines and streamlined profiles.
Gaines also debuted her Magnolia Kids line with Standard Furniture, with youth furniture pieces in each of her style genres. "When shopping for furniture for my kids, I want solid, versatile, fun and unique pieces that I know they'll love," Gaines said. "These are the details I ran with as I designed my new Magnolia Home Youth Line."
Due to Gaines' love of vintage finishes, another eight finishes were added to Standard's line including Chimney, Patina, Picket Fence, Saddle, Drift and Salvage. Other additions included approximately 50 new pieces spread among 10 new frame styles and accent chairs in the Magnolia Home Upholstery group, and introductions in the Magnolia Home Accessories group.
Loloi Rugs debuted its Magnolia Home line in April and the response "was nothing short of amazing," said Cyrus Loloi, principal. Buyers liked all of the eight rug collections, 41 pillow designs and reversible throws in the initial launch and the sales response "was better than expected." The rug collections are: Brushstroke, a wool hooked collection with multicolored fringe; Chantilly, a reversible handwoven in ombre designs and calming colors; Drake, an all-jute group in neutral earth tones; Ella Rose, powerloomed of polypropylene and viscose in classic patterns; Emmie Kaye, inspired by traditional Nordic sweater motifs; Kivi, which features distressed, classic designs; Lotus, a group of kaleidoscope designs in neutral colors; and Tulum, a handknotted Moroccan-inspired look.
Gaines "is a natural fit" for a home licensed brand, Loloi added. "She's known for home, she's been doing home design and construction with her husband for over a decade—it's who they are. She's not just a TV personality." The line's colors, textures and designs all feel like they could come from her home or office, he said. "They really do have that vibe." —AL
Kathy Ireland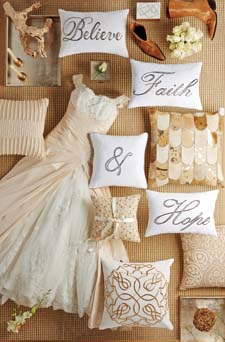 Bridal pillows from Kathy Ireland's expanded collection with Nourison. nourison.com
Since 1993, one of the most powerful forces in the licensing world has been former supermodel and actress Kathy Ireland. Ireland's licensing business has expanded into home, apparel and accessories, beauty products, pet products and jewelry, among other areas. It has amassed for her a fortune estimated at $420 million (according to a story published last year in Forbes magazine).
The home part of the Kathy Ireland brand now encompasses furniture, lighting and just about every product category in soft home. In an interview with HFN, Ireland credited Prince Edward of the British royal family with tutoring her organization on the art of quality furniture. "He came to California after the devastating fire at Windsor Castle (in 1992) and taught our team about craftwork and innovation," she said. "We bring those lessons to every market."
Also influential in the development of the business was the Blumkin family, managers of Nebraska Furniture Mart, part of Berkshire Hathaway. "The Blumkins changed our lives by becoming our first customers," Ireland said. "Our dream could not have come true without Irv Blumkin (currently the retailer's chairman and CEO) and the Blumkin family."
Ireland's brand continues to make news. At High Point Market in April, the company introduced its expanded collection of area rugs, decorative pillows and poufs with Nourison. "Nourison's partnership with kathy ireland Worldwide continues to strengthen and grow," said Alex Peykar, principal of Nourison. "Kathy's vision comes to life through these new inspirations and timeless designs, which add depth to the collection and extend the brand story to our customers."
And the brand is looking to expand its home licenses down the road. "The vision for the future is additional partners with shared values," Ireland said. "People who care about sustainability in human and environmental terms."
When asked about specific product categories that the company could add, Ireland replied, "We remained focused on the countless needs that we are not yet able to serve. Walking around the showrooms at market, we all experience home products that are not in our brand, and products which do not have a branded identity. There are many opportunities for all of us going forward." —David Gill
Rachael Ray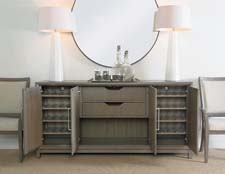 The credenza from Rachael Ray Home's Highline collection. legacyclassic.com
Known for her television show and her "yum-o" recipes, Rachael Ray took a leap into another part of the home a few months ago with the debut of her collection of case goods and upholstery at April's High Point Market.
Ray partnered with Legacy Classic and Craftmaster Furniture for the new home furnishings brand, the Rachael Ray Home Collection. She designed both the case goods, which are manufactured by Legacy Classic, and the upholstery, made by Craftmaster, herself.
"I've always said I'm not a chef—I'm a cook," Ray said in launching the new brand. "I'm not an interior designer, but I have a genuine love for all things design."
The overall Rachael Ray brand now includes cookware in partnership with Meyer, pantry products with Colavita and food storage merchandise with Best Brands. Ray's brand is now under the umbrella of Watch Entertainment, the company she formed with her husband, John Cusimano, in 2003.
Ray has emphasized that her brand is not what others consider a pure license. "I design and develop all of the products under my brand," she said. "Rather than going through a licensing agent, I work directly with my partners to develop all of the products under my brand." She added that she has always learned all of her skills by doing ... by trying out recipes and décor possibilities on her own.
For her new brand, the plans are to eventually add floor coverings, decorative accessories, wall art and lighting. —DG
Video: Color Comes on Strong at High Point Market

   More Videos
Tweets by @HFNmag