Macy's Targets Millennials
Macy's Inc. President Jeff Gennette touched on Macy's strategy to capture millennial households
Posted on 
March 4, 2015
 by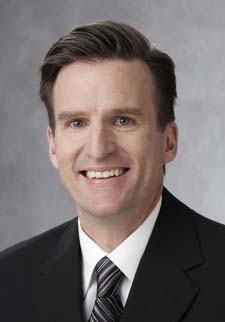 Jeff Gennette

NEW YORK–Speaking to an investor conference here yesterday, Macy's Inc. President Jeff Gennette touched on Macy's strategy to capture millennial households – and mentioned a couple of competitors including Home Goods and Bed Bath & Beyond.
At the Bank of America Merrill Lynch 2015 Consumer & Retail Conference, Gennette said Macy's is working to leverage its bridal registry to make life-long customers of young couples across multiple product categories. Home, he noted, is the portal.
"It's our prerogative to own that bride and groom all the way through their life stages. They can't do that at Home Goods. They can't do that at Bed Bath & Beyond," he said. "How can we be better? How can we be more sticky?"
Macy's first draws millennials in with apparel – particularly activewear, an area where a revamp of its merchandising approach last year is yielding dividends, he said.
Other key takeaways from Gennett's presentation:
• The early read on the new Martha Stewart Whim home collection is positive. Designed for a younger consumer, the brand is already selling online and has begun rolling out to stores.
• The debut of the Thalia Sodi brand in apparel, shoes and accessories three weeks ago marked the most successful multi-category private label launch in the store's history. Currently in 300 doors, "we're already excited about how many categories the brand can go in," said Gennett. "The sweet spot is really the Hispanic female."
• Macy's home textiles assortment is "very robust," although the company still wants to make improvements. Another goal: doing a better job in tabletop.
• The idea of creating a Macy's outlet format to compete with off-pricers remains in the exploration phase. He acknowledged that the leading off-price retailers have been taking market share. "We're going to test thoroughly before we go in – more than what's been rumored."