Garnet Hill's Mobile Shop Hits New York City
The pop-up shop is at the South Street Seaport this month
Posted on 
September 12, 2016
 by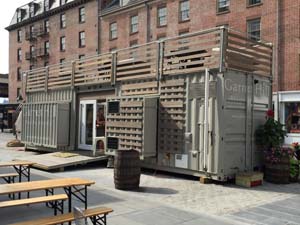 The Garnet Hill pop-up shop

NEW YORK—With its new mobile pop-up shop, Garnet Hill "wanted to be more avant garde," Claire Spofford, president and CEO of the catalog retailer said during a recent media event.
The pop-up shop, which is housed in a converted shipping container, will be open at South Street Seaport until Sept. 22.
Spofford added: "We wanted to bring the Garnet Hill brand to people," which is about natural fibers and beautiful products.
The pop-up shop launched first in New Hampshire, where the company is based, before making its way to New York. Featuring a roof deck, a Murphy bed and a kitchen, it's "880 square feet of Garnet Hill style," Spofford said. Merchandise is divided evenly between home items and apparel. The products selected for this small space were carefully edited so that colors coordinated throughout, and are a mix of its best sellers as well as some of its core programs, Spofford told HFN. The Dream quilt, its number-one home item, for example, dresses the bed.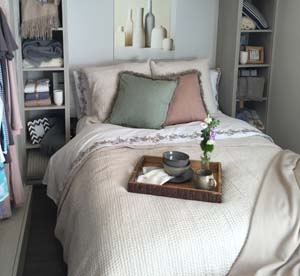 A bed ensemble in the Garnet Hill pop-up shop
Consumers can buy small items such as candles, books and bags at the pop-up shop, while bigger items can be ordered through an iPad and received via two-day shipping. After the pop-up shop closes here, it will go into hibernation, but there's a chance it will head to Florida in early 2017.
Celebrating its 40th anniversary this year, Garnet Hill opened its first brick-and-mortar store last summer in The Hamptons in Long Island, N.Y.
advertisement
advertisement
Tweets by @HFNmag