Nordstrom Offers First Peek at Manhattan Flagship Store Design
Its first New York City location is expected to open in 2019
Posted on 
February 15, 2016
 by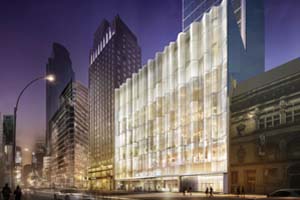 An illustration of Nordstrom's future New York location

NEW YORK—Nordstrom unveiled plans for its first New York City location, slated to open in 2019 in the Columbus Circle neighborhood. Encompassing four properties on Broadway between West 57th and 58th streets, the store will be approximately 363,000 square feet.
The plans will include both existing, historic buildings as well as new construction. Modern glass façades will be incorporated on the new construction at the base of Central Park Tower, envisioned by world-renowned designer James Carpenter, known for his use of natural light and luminescent artistic sensibility. Additionally, Nordstrom will restore or rebuild the street level facades of the other buildings to evoke their original historic design.
"We're building in the context of the world's greatest stores in the best retail city in the world and our ambition is to create an entire experience that reflects the best of what we have to offer," said Pete Nordstrom, co-president, Nordstrom Inc. "We think the modern exterior glass design combined with the historical renovations honor both the past and future of Manhattan. We look forward to the day when we can open our doors and welcome customers."
Seven-level glass waveforms facades were created to catch light as it strikes through the east-west axis of West 57th and West 58th streets, and continually change throughout the day and seasons, the company said. The waveforms also provide an interactive viewing experience for customers inside the store and for those outside at street level.
"When creating the store's identity we considered the human experience from both the inside and out," said Dawn Clark, vice president of store design and architecture for Nordstrom Inc. "In this amazing city of art, culture and fashion, we hoped to create a design that amplifies New York City's creative energy."
advertisement