High Point Market Kicks Off in North Carolina
Designers, anniversaries and other reasons to celebrate get High Point Market off to a strong start
Posted on 
October 17, 2015
 by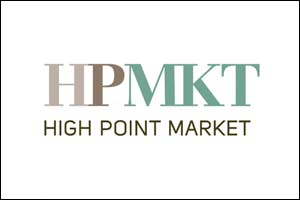 HIGH POINT, N.C.-The fall edition of High Point Market starts today, as thousands of attendees will view thousands of product introductions.
Among the abundance of unveilings are several big licensed lines such as kate spade new york, which is introducing furniture, lighting, rugs and fabric; Cynthia Rowley, who is launching a line with Hooker Furniture, and much more. For more High Point Market coverage, pick up copies of HFN and its exclusive market supplement, HFN High Point, at the show for comprehensive market news, trends and more.
In addition, a plethora of events—both social and educational—are on tap for attendees.
Many companies are celebrating their anniversaries today with events. They include Fine Art Lamps for its 75th (5-7 p.m., IHFC C229), Henredon Furniture for its 70th (2-4 p.m., Market Square, #348), Picture Source for its 40th (4-7 p.m, IHFC, C365), InterHall for its 25th (4-6 p.m., IHFC, MIX Bistro & Lounge), and two five-year-olds: Couef (4-6 p.m., IHFC, IH502) and Antique & Design Center (5-8 p.m., Antique & Design Center, Market Square Ground and Mezzanine).
Celebrity designers are a part of the market mix, of course, and several are scheduled to speak to attendees today. From 11 a.m.-noon, designer and HGTV star Candice Olson will give tips on designing with neutrals at Surya's showroom (Showplace 4100) in a presentation called "Style-Transcending Neutrals." Thom Filicia will debut his newest artwork collection with Soicher Marin (Commerce & Design, #1B, 1C), which will offer lunch with the designer from 11:30 a.m. to 1:30 p.m.
From noon to 1:30 p.m., Barclay Butera will give a talk called "Elegant Simplicity: Barclay Butera's take on Modern Living" at the High Point Theatre, presented by ASID and the High Point Market Authority and sponsored by Horchow; a complimentary box lunch is included. Libby Langdon will be on hand to debut her lighting, accessories and accent furniture at Bradburn Gallery from 4-6 p.m., 200 Steele Street, #134.
Other highlights today include one at Paramount Sleep (IHFC, M540), which will present Dr. James B. Maas, a sleep authority and Cornell University professor, who will be on hand to answer questions about the most common sleep issues (8 a.m. to 7 p.m.). Autographed copies of Dr. Maas' latest book, "Sleep to Win!," co-authored with Haley Davis, and a new 2016 Back Performance sleep system are among the giveaways.
Nancy Fire, design director for HGTV Home and creative director/founder of Design Works International will present "Let's Take it Outside: Hot Outdoor Trends & New Products" from 2-3 p.m. at the Suites at Market Square Seminar Room, 1-1014.
From 3-5 p.m., Currey & Company (IHFC, M110) will host its Midnight in Paris! party where attendees can meet the Antiques Diva, Toma Haines, and enter to win a tour of Paris flea markets with Haines.
Giving attendees an inside look at leading trends, the popular program "TrendWatch: An Inside Look at the Future of Design" returns to market and will be held from 3:30-4:30 p.m. in the Suites at Market Square Seminar Room, 1-1014. The program also includes three on-site trend displays: at the Suites at Market Square lobby, IHFC's Green lobby and the walkway between IHFC and Showplace.
Phillips Collection will host its popular industry mixer—with its signature meatballs and moonshine—from 4-9 p.m. in its showroom, IHFC, C202.
Then to end market's first day, pop singers All-4-One will perform from 7-9:30 p.m. at the Center Stage at the Transportation Terminal. Free food and beverages will be available.
For more event details throughout market, visit highpointmarket.org.