Housewares a Top Seller for Amazon's Prime Day
Worldwide order growth increased 18 percent over Black Friday 2014, Amazon reported
Posted on 
July 17, 2015
 by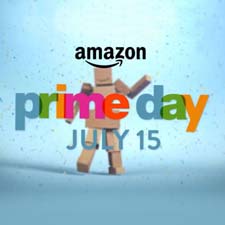 SEATTLE-Amazon sold more units on its first ever Prime Day than its biggest Black Friday ever, and more new members tried Prime worldwide than any single day in Amazon history, the online retail giant reported.
Customers ordered 34.4 million items across Prime-eligible countries, breaking all Black Friday records with 398 items ordered per second. Customers also ordered hundreds of thousands of Amazon devices—making it the largest device sales day ever worldwide.
Among housewares and home categories, the following were some Prime Day U.S. highlights:
• 28,000 Rubbermaid 42-Piece Easy Find Lid Food Storage Sets, compared to 428 the previous Wednesday
• 24,000 Instant Pot 7-in-1 Programmable Pressure Cookers, compared to 182 the previous Wednesday
• 14,000 iRobot Roomba 595 Pet Vacuum Cleaning Robots, compared to 1 the previous Wednesday
• 10,000 Meguiar's X2020 Supreme Shine Microfiber Towels, compared to 244 the previous Wednesday
Amazon Prime is a membership program for $99 a year that offers customers unlimited free two-day shipping on more than 20 million items across all categories, unlimited free same-day delivery on more than a million items in 14 metro areas, unlimited streaming of movies, TV episodes and songs as well as access to select 'lightning deals' all year long, among other benefits.
Prime Day was also a success for sellers on Amazon that use the Fulfillment by Amazon (FBA) service. They enjoyed the biggest day ever with record-breaking unit sales, growing nearly 300 percent worldwide, Amazon reported. These sellers included local retailers and businesses of all sizes.
MMP Living, one of Amazon's largest sellers of housewares and educational products, sold through on all of its special deals. "The FBA service has been great and on #PrimeDay was huge for our business," said Mike Mitchell, COO of MMP Living. "Holiday sales volume in July. What a day!"
What was created as a one-time promotion is likely to become a more frequent event, according to Greg Greeley, vice president, Amazon Prime.
"Worldwide order growth increased 266 percent over the same day last year and 18 percent more than Black Friday 2014 ... Going into this, we weren't sure whether Prime Day would be a one-time thing or if it would become an annual event," he said. "After yesterday's results, we'll definitely be doing this again."
advertisement