Holstein Cupcake Maker Stars on "Rachael Ray Show"
Featured in cupcake-making contest with "2 Broke Girls" stars
Posted on 
November 9, 2015
 by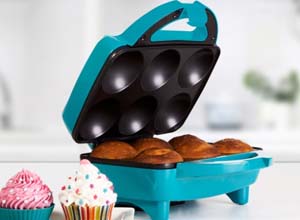 Holstein Housewares' Cupcake Maker

MIAMI-The Nov. 2 episode of "The Rachael Ray Show" included a segment featuring the Cupcake Maker from Holstein Housewares.
The appliance took center stage during a segment titled "The Stars of '2 Broke Girls' Take on Rach in an Epic Cupcake Battle." The segment involved a winner-takes-all competition that pitted Kat Dennings and Beth Behrs, the stars of the series "2 Broke Girls," against Rachael Ray in a race to see who could make a batch of cupcakes the fastest. The two TV stars beat Ray, and each member of the studio audience received a Holstein Cupcake Maker.
To celebrate of the Cupcake Maker's television appearance and of "2 Broke Girls'" upcoming 100th episode, "The Rachel Ray Show" is also offering viewers a chance to win a Cupcake Maker of their own. Interested participants can put their name into the giveaway at rachaelrayshow.com/club-RR/giveaways/. The deadline for entry is 11:59 p.m. Eastern time today.