Textiles Retailers of the Year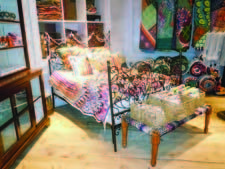 By David Gill
For the first time, HFN has selected two retailers as Textiles Retailers of the Year.
The two stores are Macy's and Anthropologie. They were chosen for their assortments and their presentations of the merchandise--and for the environment of their home-textiles departments, which in both cases is calculated to draw shoppers from the other surrounding departments.
The environment of the Macy's textiles department is designed to highlight what the company believes sets it apart as a retailer. "Home textiles is an area where we can offer products and values that are unique to Macy's," said Lisa Magann, the retailer's executive vice president and general merchandise manager of home. "We work hard to create shopping environments that highlight our strategic initiatives, including Martha Stewart, the Hotel Collection and Charter Club."
In doing so, Macy's has made its home-textiles department a winner in terms of the retailer's overall success. "Home textiles is a strategically important category for Macy's and contributed to the overall success of the store's business in 2010," Magann said.
The environment is a critical element to Anthropologie's textiles section as well. The retailer strives for, and achieves, a casual atmosphere in its textiles section. Anthropologie uses wall fixturing that resembles furniture, with shelves and doors like a cupboard. It also has hanging displays of comforters, duvet covers and shower curtains.
A visit by HFN to a Macy's and an Anthropologie, both located in the Short Hills Mall in Short Hills, N.J., provided ample evidence of why these two retailers are so successful in merchandising home textiles.
A major lesson from how both Macy's and Anthropologie merchandise their home textiles is that there is more to successfully retailing these products than low prices or how many colors are available on the sheet wall or towel wall. Textiles are meant to contribute to the atmosphere and comfort of a home, and it makes sense that stores should present and merchandise these products by making their customers feel at home as well.
Macy's has its textiles section on the store's third floor. It is right there when you get off the escalator--clearly a destination location, rather than an afterthought department as at some other retailers. It is divided into shop environments in which shoppers can browse through areas dedicated to both to the retailer's textiles brands and to designer merchandise: the Hotel Collection, Charter Club, Martha Stewart Living, Calvin Klein, Ralph Lauren and Tommy Hilfiger.
Each of these "shops" has handsome fixturing that looks more like wood furniture than the standard retailer fixturing. Each shop also develops its fixtures to reflect the design orientation of the collections. The Calvin Klein section has sleek, contemporary fixtures not unlike the furniture in the Calvin Klein Home collection. The fixtures in the Charter Club area have a more traditional look; one large fixture of sheets is topped by a cornice, for example.
There are actually two sections for the Hotel Collection--one with decorative bedding and one with basic bedding. The latter, in particular, is striking in that it displays both Hotel Collection mattresses on the floor and Hotel Collection bed pillows and mattress pads on a wall fixture, thus creating and obvious but seldom used connection between these products in the mind of the shopper.
Macy's textiles section is clearly designed to keep shoppers browsing through the department. The same is true of the Anthropologie textiles area. Although at the Short Hills Mall store, this section is much smaller than the Macy's area, it is still an area in which entices shoppers to linger and view all of the merchandise--and which feeds the impulse for shoppers to decide to purchase.
Anthropologie's textiles are to be found in the back of the store, in their own corner and well separated from other merchandise. The hanging displays, cupboard fixtures and shelf fixtures are set in a circular pattern, which encourages shoppers to walk around and look at the products more than once.
One cupboard fixture is devoted to bedding such as comforters, sheets and Euro shams. Two others present bath towels and accessories. One of these also displays plates, picture frames and even women's underwear. The styles of the cupboard fixtures range from contemporary to rustic casual.
The display bed in the Short Hills Mall store shows the Dynamic Ikat bed ensemble, a brightly colored design combining an ikat look with stripes and other details. Vivid colors characterize much of the bedding offerings at Anthropologie. The comforters hanging on the wall near the display bed all have bright colorations and encompass a number of design motifs.
Textiles vendor executives both gave four-star reviews to both Macy's and Anthropologie. Of the former, one executive underscored what Magann said about the importance of the textiles section, saying the success of this strategy showed up in the department's sales figures, which have gained strength since Macy's initiated its My Macy's strategy of localized assortments a few years ago.
Anthropologie's textiles presentation drew strong praise from vendor executives. "I would call them a new-environment retailer," said Bob Hickman, senior vice president of sales and marketing with United Feather & Down. "They don't have an extensive collection, but they shop the market and select the plainest textiles in each category."
Anthropologie's shopping ambiance won kudos from another executive. "I would have to say the overall best shopping experience with a company that stays true to its message is Anthropologie," she said. "The shopping environment feels like a boutique, with good customer service while retailing very unique home products that are not available at the big retailers.
Video: Color Comes on Strong at High Point Market

   More Videos
Tweets by @HFNmag