RH Signs Lease at San Francisco's Historic Pier 70
The former shipyard will be rehabilitated and then open to the public in 2017
Posted on 
February 9, 2016
 by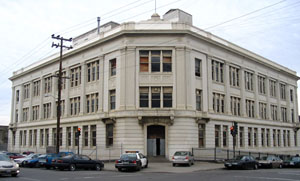 Pier 70's Bethlehem Steel Building

SAN FRANCISCO—RH plans to open a Gallery format store in this city's historic shipyard of Pier 70, a waterfront group of eight buildings dating back to 1885.
RH San Francisco, The Gallery, will be in the Historic Bethlehem Steel Building, constructed in 1917 and on the National Register of Historic Places. This location of the Gallery—RH's newer, larger format store—will span five floors and nearly 60,000 total square feet. It will showcase artistic abstractions and never-before-seen collections of luxury home furnishings in a gallery setting, including a significant presentation of the brand's latest business concept, RH Modern.
"With great admiration and respect for its architectural heritage, we could not be more honored to reestablish this historic landmark's relevance," said RH Chairman and CEO Gary Friedman. "This is a rare opportunity to help render the whole neighborhood more valuable, reenergizing our surroundings and creating a lasting gift to our hometown."
This is the first sublease tenancy agreement with the Port of San Francisco and Historic Pier 70 LLC. Pier 70 is now in the construction and leasing phase, and is expected to open to the public in 2017.
"Historic Pier 70 LLC's rehabilitation of the historic core buildings at Pier 70 is the first step in the Port's vision for reconnecting the Dogpatch neighborhood with the waterfront," said Byron Rhett, port director of planning and development. "It is extremely rewarding to now see construction underway and to celebrate the signing of the first project sublease to Restoration Hardware for the iconic Bethlehem Steel Building 101. The Port looks forward to the reactivation of Building 101 and heartily welcomes Restoration Hardware to the Dogpatch waterfront."
The Historic Bethlehem Steel Building was designed in the Classical Revival style by San Francisco architect Frederick H. Meyer, and the entire structure will be restored to its original state. Friedman will collaborate with design architect James Gillam of Backen, Gillam & Kroeger on the RH San Francisco location. Friedman and Gillam have recently restored other landmark buildings in iconic locales across the country, including the former historic Museum of Natural History in Boston's Back Bay, the historic Three Arts Club in Chicago's Gold Coast and the historic post office in Greenwich, Conn.
advertisement