Macy's Spectacular
Massive upgrade of Herald Square flagship puts housewares and tabletop in the spotlight
Posted on 
December 8, 2015
 by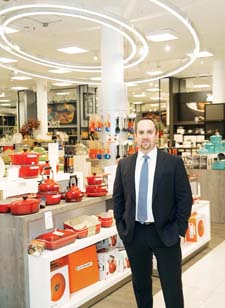 GMM Shawn Austin: Mission number-one was to bring housewares, tabletop and the bridal registry all together on one floor.

By Allison Zisko
Macy's Herald Square has taken the wraps off its newly reno- vated housewares and tabletop department, and one thing is clear: the massive eighth floor upgrade has created a destination within a destination.
The revamp, part of the retailer's four-year, $400 million flagship renovation project, is a brand-centric, beautifully fixtured format filled with demonstration areas, LED screens and technology such as touch pads for easy access to product information. The housewares category is now concentrated on one floor in combination with tabletop and bridal registry, where previously it had been featured on various floors, including The Cellar on the lower level.
"The main benefit of the adjacencies is that we have a one-stop-shop for the customer when she is thinking about her home," said Shawn Austin, executive vice president and general merchandise manager of home, during an exclusive walk-through with HFN. "That was mission number one—to bring it all together."
Housewares and tabletop are now situated alongside a new bridal salon and bridal registry area, a big initiative for the company. "Now [the bride] can look at dining and kitchen on one floor," said Austin, whose 14-year career at Macy's has been spent mostly in home, with a five-year detour into other departments. He returned to the home area in May. "I think it will make it much easier to do a registry, certainly more efficient."
Construction on the floor began in February, one of the last areas tackled in the massive renovation project that aimed to be complete in time for the 2015 holiday shopping season. The main entry to the housewares floor is from the number-one escalator, which stands roughly halfway between the 7th Avenue and the Broadway sides of the store, which boasts 2 million square feet of selling space. "We like to lead with our hottest categories," Austin said. "Right now, it's prep."
The food prep area is filled with displays of blenders and mixers from brands such as Breville and Cuisinart and anchored by a large KitchenAid shop-in-shop, "which we're really proud of." A wall of colorful KitchenAid mixers provides the backdrop for a sizeable demonstration area that includes electrical outlets and inventory space underneath. The space tells the whole KitchenAid story of mixing, cooking and blending. "It's quite a transformation," said Austin.
Next to KitchenAid is an area devoted to coffee. Macy's has adopted a "360-degree approach" to coffee with an assortment that includes traditional drip coffeemakers in a good-better-best assortment, single-serve products anchored by a Keurig shop, an espresso area serviced both by the single-serve makers and a Nespresso coffee station (a big hit with the Herald Square customer looking for a pick-me-up) and a super-automatic business which includes some of the highest-end machines on the market. French presses are available in a Bodum shop, which particularly appeals to the store's international customers.
Across the aisle and down the center of the floor is professional cookware and cutlery. It includes brands such as Le Creuset, Calphalon, All-Clad and Henckels, flanked on one side by moderate cookware and on the other by small electrics. All-Clad's full product offering is on display, including its small appliances. Integrated touch-screen pads walk customers through the lineup with full product details. The Zwilling J.A. Henckels area likewise features all of the company's brands, from Henckels cutlery and cookware to Staub cast iron, and includes an induction cooktop for cooking demonstrations. "Now we have their full portfolio of brands," Austin said.
Le Creuset's shop is "one of the biggest wows," Austin said, which includes high-end material fixtures with integrated storage and a powerful, four-panel LED screen filled with great visuals. "I've watched customers just stand here and gaze at it," he said. It is one of Le Creuset's premiere shops in the country, in Austin's opinion, and a virtual flagship for the brand.
Indeed, for some of the brands, these shop-in-shops serve as their New York showroom. "Having their best foot forward was important," Austin said. Vendors collaborated closely with the Macy's visual team on fixturing and other elements so that while each brand's shop concept is unique, the floor is a cohesive blend of light-colored solid surfaces and sleek, dark wood cabinetry. The floor overall is brighter, thanks to a significant investment in lighting. Previously, "we had great product but you couldn't see it in the dark," Austin said.
Sprinkled throughout the housewares area is gourmet food, ranging from an alcove near the escalator that offers jam, vinegar, seasonings and more from Stonewall Kitchen and others, to a seasonal aisle display of gingerbread cookie ingredients. The addition of gourmet food represents a new merchandising strategy for Macy's, one it hopes will whet the customer's appetite. "We need to inspire her to shop," Austin said.
Tabletop Connection
Mixing food and an extensive, multicategory assortment is Macy's own Martha Stewart collection, which creates a bridge on one side of the floor between housewares and tabletop and includes a new initiative called "Martha's Perfect Pot," a collection of cast-iron cookware in a wide range of colors.
The tabletop area, which was not completely finished at the time of the walk-through, represents a new top-of-the-table concept that features great brand recognition but a lot of more casual, mix-and-match displays. There is still a wall of fine china along the back end, but it will be broken up by more innovative displays and graphics; the remaining upstairs brands are surrounded by more casual offerings that wrap around them. Referring to the long-term industry distinction between upstairs and downstairs tabletop, Austin said, "The customer doesn't understand the difference anymore; I'm not sure they ever did. But if you want to build a table setting, you need to see all the options. It's all here." The mixing of upstairs and downstairs tabletop mimics a strategy already employed in many of the retailer's suburban stores.
As in housewares, there are several tabletop shop concepts, including Lladró, Ralph Lauren and Michael Aram, with a sizeable center display of Kate Spade and Lenox, and Waterford. Fiesta ware, previously presented in a color-blocked format, is now merchandised with a wider array of colorways, all mixed together. There is also a considerable barware section filled with boxed sets.
A Chilewich shop, modeled after its New York store on 20th Street, is adjacent to barware, featuring a display of placemats on black trays on a free-standing fixture and rolled mats on wall-mounted dowels. "It's really exciting for a category that's not that exciting," Austin said. "This makes you want to buy table linens."
Also new to Macy's is a Fishs Eddy shop that is fairly New York-centric, with its iconic Skyline dinnerware and glassware collection as well as other giftable goods. Adjacent to that is an apothecary-like shop of various curiosities created by the design consultancy Aesthetic Movement—a Fishs Eddy rep—that includes a mix of hand soap, dish soap and laundry soap, mixed in with farmed honey and artisan sea salts and cookbooks, mortars and pestles, and wall clocks.
The brand-new floor debuts during the all-important fourth quarter and at the height of the holiday selling season. For consumers looking to prepare their kitchens and tables for the holidays, it is indeed all right there, in one place. Austin and his merchandising team can consider it mission: accomplished.
For more photos please go to: http://www.hfnmag.com/product-gallery/macys-spectacular-dec-2015/
advertisement