Retailers Woo Savings-Minded Shoppers
Posted on 
December 29, 2010
 by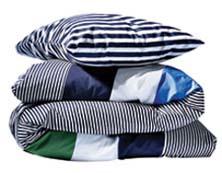 By Barbara Thau
The recession might be officially over, but consumer spending has not returned to its heady 2006 levels.
In turn, home furnishings retailers are settling in to the new normal by playing up the lower-price point fare in their product assortments, crafting value-oriented marketing messages and cooking up new promotional strategies to keep in step with today's savings-minded shoppers.
It comes as little surprise. Unemployment remains stubbornly high, hovering around 10 percent, and "consumer confidence indices are starting to weaken," said Dana Telsey, chief executive officer of Telsey Advisory Group, in a recent report. "While the worst is behind us, we believe the recovery will be slow and the consumer will continue to be challenged by a weak unemployment picture," she said.
Although the retail sector has rebounded somewhat from the dark days of 2008 during the country's financial meltdown, sales-per-square foot--a telling metric--across numerous retail chains have not returned to pre-recession levels, said Amy Noblin, a senior analyst with Weeden & Co.
As a result, "a big segment of the population is not returning to their pre-recession spending habits," she said.
Indeed, 40 percent of the 56 retail chief financial officers surveyed by PwC, formerly known as PricewaterhouseCoopers, on their outlook for the new year, said their customers are still worried about their economic situation and will continue to hold back and/or defer retail purchases in 2011.
Still, the tepid economy has "played to Ikea's strengths: good design and function at affordable prices," said Joseph Roth, public affairs director for the Swedish home furnishings giant.
Now the retailer is accentuating that more than ever by emphasizing its lower priced merchandise and sharpening the value message in its marketing, he said.
"The customer is even more focused than they used to be on affordability," Roth said. "All the more reason to make the effort to highlight the affordability and value of Ikea's offerings."
Ikea customers have been adjusting their shopping habits from how they purchased in better times to this tenuous economy, Roth said.
Amid a still weak housing market, "We're recognizing that there are not as many home purchases."
To that end, "the folks that might have bought a new home are [instead] redecorating with furniture."
Likewise, shoppers in a strong economy who might want to replace furniture, "but in this uncertain economy, they are hesitant to do so--so you'll see them buying curtains and throw pillows," Roth said.
With these lower-priced accessories, "you can change up your look without redoing the entire home."
The retailer is also calling out lower price point fare in its Ikea catalog and at the store level.
In Ikea's Marketplace department, for example, the retailer is broadcasting messages in signage such as, "change the look of your home with a duvet."
"We're showing shoppers how they can do something affordable and still achieve that desired result," Roth said.
The retailer is also highlighting more combination units, such as its BESTA furniture storage system, than ever before.
For example, "We'll show an entertainment unit--even in this economy, lots of people still have big screen TVs--and say, 'this whole combination is available for a certain price point.' Shoppers can see that just by adding a little more to the purchase, they can get the whole entertainment unit for a good price, rather than just the TV bench," he said.
The Container Store also recognizes that in this post-recession period, shoppers have a heightened focus on value, said Olescia Hanson, a spokesperson for the storage and organization emporium.
The retailer's elfa storage and shelving product line, which represents "great value," remained a strong seller even through the recession and continues today to be The Container Store's top-selling product line, Hanson said. The retailer launched its big annual elfa sale on Dec. 29, which will continue through Feb. 15.
The elfa system is the foundation of any organized space, from the kitchen to the family room to the garage, Hanson said.
The retailer also offers shoppers free elfa design services.
In a bid to sweeten the deal for its shoppers, The Container Store plans to launch a loyalty program this year, said Catherine Davis, direct marketing director. "There are lots of opportunities to ensure [customers] feel appreciated and rewarded," she said.
Meanwhile, Amazon.com expects shoppers' demand for free shipping during the holiday season will continue this year.
"We expect those trends to continue in 2011," said Laura Orvidas, director of Amazon.com's home and garden store.
To that end, the e-tailer offers free Super Saver Shipping and Amazon Prime for free two-day shipping on millions of products, including big ticket home goods--from Winsome adjustable bar stools to Strathwood patio furniture to Southshore platform beds, she said.
As more and more consumers are using their smart phones to compare prices on products across the retail sector, merchants need to be that much sharper on pricing.
Amazon, whose model was built on offering the lowest prices possible across numerous product categories, says bring it on.
"We thrive in this environment," she said.
Indeed, Amazon, like some other merchants these days, offers its own price comparison-shopping application.
"Customers should take advantage of Amazon's mobile shopping apps to make sure they are getting the best price," Orvidas said.
advertisement
advertisement
Tweets by @HFNmag