Robert Welch Designs Extends Signature Cutlery Line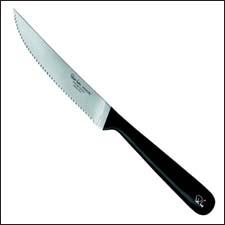 Signature steak knife
NEW YORK-The Robert Welch Signature Knife range has seven new additions that will be highlighted at the New York International Gift Fair here next month.
There are two versions of the steak knife, bringing the Signature range to the dining table. There is a serrated edge steak knife and a plain edge steak knife; the latter features the same Japanese-style 15-degree edge as the rest of the Signature Knife range. Both are made from German steel. The plain edge retails for $25 apiece while the serrated edge knives retail for $48 per pair.
There are also five new knives to help with kitchen prep. They include a 7-inch Deep Santoku, adding blade depth and weight to existing santokus; a 6.5-inch Boning Knife, a 6.5-inch Flexible Fillet/Boning Knife, a 12-inch Slicing Knife; and a 12-inch Flexible Slicing Knife. The boning knives both have a slightly larger handle for added grip and a narrow pointed blade for precision, while the slicing knives come in a rigid or flexible version. Retail prices range from $70 to $90.
Rem-Fit Unveils Innovative Smart Pillow at Las Vegas Market

   More Videos
Tweets by @HFNmag