Heim-trends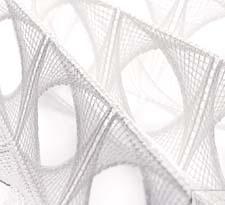 Inventors: are looking for decor in which function meets fun, and enjoy trying things out and experimenting.
By David Gill
Messe Frankfurt introduced the design trends to be seen at the upcoming Heimtextil trade show at a meeting in New York City last month.
The trends emerged from a panel of international design agencies from six countries, and were presented at the meeting by Mark Woodman, trend consultant with Global Color Research, who participated in the panel.
Among the trends to be seen at the January trade fair are "the historian," consisting of individuals who will be decorating their homes with designs from history, including those with aristocratic and very ornate looks. Historians are "lovers of luxury," according to the panel's report. "Born into a technology-dominated culture, they are devoted to finding ways to fit history into their contemporary lifestyles."
The "historian palette," the report said, is muted with pearlescent pale shades, candlelit metallic sheens and "dim and mysterious dark shades."
"The eccentric" involves consumers who are chasing unique and eclectic looks, exemplified by ostentatiously attired elderly urban women, and who are looking to make statements expressing their individuality. Eccentrics are hunters and collectors, according to the report, who assemble flamboyant decor pieces with timeless qualities and "extremely decorative character."
The eccentric color palette is a "palette of passion." It is "a range that stages the abundant as well as the understated to enable the flamboyant color clashes where extravagance meets elegance and exoticism."
"The inventor" trend involves individuals who, like eccentrics, are free thinkers looking for decor in which "function meets fun," according to the report. They love experiments, seek adventure and look for the undiscovered. They are opportunistic characters who enjoy trying things out and making their mark on the design and production processes.
The color palette for inventors consists of vivid shades, combining colors in "strange contrasts," according to the report. Examples of such contrasts include combining the clinical and the organic, the hot and the cold, and functionality with fun.
"The geologist" includes consumers who are looking to decorate their homes with decor using materials from nature, and with colors such as those found in precious stones. Geologists are nature lovers who choose colors by exploring the layers of the earth.
At the same time, geologists "are still intrigued by the fact that man, the city and the economy are an integral part of our current ecosystem," the report said. "The interest of designers is shifting from the end products to sources, tools and processes. They are succeeding in finding alternative resources and methods of production."
The color palette the panel associated with geologists "reflects the mysterious, dark side of nature," the report said. It includes intense colors "sparked with poisonous brightness and metallic sheen to light up our urban caves," combined with "dense and understated natural shades."
Subscribe to
HFN Omnichannel
Receive the news you need to know about the trends in the industry delivered right to your inbox.


HFN's DIGITAL EDITION

July 2017


COVER STORY: Bloomie's Home Makeover
The luxury department store retailer unifies its home floors at its flagship store on 59th Street in New York City and modernizes the shopping experience.


ALSO IN THIS ISSUE:

The American Makers - Retailers grapple with the rewards and challenges of selling American-made home furnishings.
Category Trends: Tabletop - The newest cocktail and dining trends influence barware and serveware design.

Subscribe to Digital Edition
Tweets by @HFNmag