Country Living Presents Blogger Awards
Posted on 
November 4, 2011
 by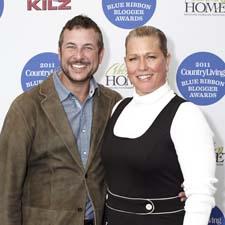 Boone with guest Emme
NEW YORK-Country Living magazine hosted its first Blue Ribbon Blogger Awards luncheon at the Hearst Tower yesterday, honoring bloggers in seven categories: Lifestyle, Pets, Crafts, Decorating, Food, Gardening and Collecting. After Editor in Chief Sarah Gray Miller welcomed the honorees, Cooper Boone, a longtime friend of Country Living and one of the judges, presented the awards to each blogger honoree.
In the Lifestyle category, Aimee Carpenter won for her blog craftyfarmgirl.net, which is about living the farm life in suburban Connecticut; while Melissa Caughey came in first in the Pets category for her blog tillysnest.com, which chronicles her journey of keeping backyard chickens. For Crafts, Rachel Garza placed first for rhgarza.blogspot.com, where she creates new items out of leftover, discarded or unusual materials; while in the Decorating category, Wendy Hyde won for her blog shabbynest.blogspot.com, where she shares her love of home decor and DIY projects, as well as entertaining and style. Sydney Kramer won in the Food category for her blog crepesofwrath.net, which offers visitors recipes for delicious food as well as photos; and Linda Ly won in the Gardening category for her blog gardenbetty.com, which focuses on her gardening adventures in a coastal suburb of Los Angeles. In the Collecting category, Beth Styles won with her site secondhandwithstyle.blogspot.com, where she blogs about food, fashion, sustainable style and other things that inspire her.
Besides Boone, of Cooper's Kitchen, judges included Eddie Ross of eddieross.com, Simply Sublime's Jodi Kahn and Pink of Perfection's Sarah McColl.