Surya Honored with Niryat Shree Award
Posted on 
December 11, 2014
 by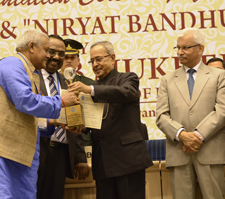 The President of India presents the award to Surya Tiwari.
CALHOUN, Ga.--Surya recently received the Niryat Shree Award for outstanding performance in exports, which was presented to Surya founder Surya Tiwari by the President of India, Honorable Shri Pranab Mukherjee, during a ceremony held in New Delhi at the beginning of December.
The awards are given out by the Federation of Indian Export Organizations (FIEO), which is set up by the Ministry of Commerce, Government of India. It fosters India's entrepreneurial spirit in the global market and helps to promote trade by acting as a liaison between its members and the Government of India.
Surya received the award in the category of Textiles Sector, Including RMG, Made-ups, Yarn, Handicrafts & Carpets.
"At Surya, we have a strong global presence, sourcing products from more than 40 locations across five continents, with an increasing number of products being produced in the U.S.," Tiwari, who is also company president, said. "We are honored to receive this esteemed award and are thankful for the continued support that FIEO and the Government of India have provided us as we continue to expand our reach in the home accessories market."
advertisement