Blogs
LAS VEGAS-The Summer Las Vegas Market heated up as temperatures hovered past the 100-degree mark.
Many tabletop newcomers to Vegas said they see the potential in this market.
"I think this is going to become a major, major destination for gift buying," said Kathy Pitts, president of Skyros Designs, which showcased its Villa Beleza dinnerware. "It's growing here and I'm very pleased to have something on the West Coast," said William Hardy, sales director for Vagabond House, which entered the dinnerware category with a new stoneware collection.
Vendors praised the hospitality and friendliness of the International Market Centers staff here, whom they said provided a very warm welcome.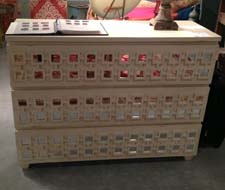 One of GuildMaster's furniture introductions
GuildMaster brought more transitional furniture pieces to market, with clean, simple lines. They included different hutch choices for furniture bases, in a gray finishes, with a lighter, blond one which will be available soon as well. All of its furniture is handpainted and handcarved.
Brand-new company Mitchell Black made an impressive debut here. The Chicago-based company transforms archival etchings into customized wall art, stationery and tabletop, giving new life and a new perspective to classic designs.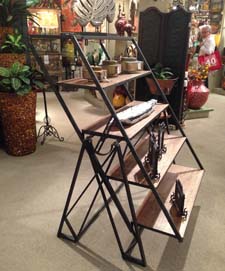 IMAX's Convertible Table
IMAX's color themes at market included indigo products in one of its vignettes, and Glimmer, with pinks and golds, in another. One new furniture item was the Convertible Table, which can be easily converted from a book shelf to a table or vice versa. The Essentials by Connie group now has two other colorways--taupe and black--which can be mixed into its other existing color groups.
Some familiar faces are making their Las Vegas debuts with new companies at this market. Stefanie Lucas, formerly of Rowe Furniture, is now the president of HTL International's Domicil brand in North America. The company is unveiling a new contemporary collection, Muse, at the market.
Paul Watson made his market debut as the president of Christopher Guy. Watson was formerly the vice president of the Las Vegas Design Center. Christopher Guy introduced the luxurious Mademoiselle Collection.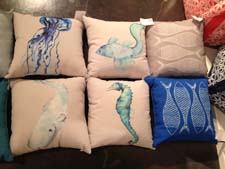 Surya's indoor/outdoor pillows
In its new 30,000 square-foot showroom, Surya debuted a new indoor/outdoor collection that comprises coordinating rugs, pillows, poufs and wall art, all of which is made in the U.S. The collection has almost 130 pillows. The company also featured its accent furniture in one area of the showroom, as well as debuted a new high-end printed rug line called Bluebellgray, which is machine-made of wool and includes ombre and painterly effects.
Rizzy changed the color creel for its Sorrento collection to utilize golds, grays and blues. "It added warmth," said Teresa Parris, creative and visual manager. "It's more retail friendly now." Patterns include patchwork, contemporary and medallion designs. Another new line, Cosmo, is a handtufted polyester shag with thin and thick yarns with such patterns as stripes, fun florals and solids.
Magisso, the Finnish design company, introduced black terracotta bar accessories. The wine cooler, carafe, champagne cooler and ice bucket keep beverages cold for hours and look stylish while doing so ... Jonathan Adler introduced its mirrored Delphine bar (the surprise lies in the turquoise interior) ... Abbyson Living entered the casual furniture category with outdoor collections including Aspen, a scaled-down line for apartments and condominiums.