Blogs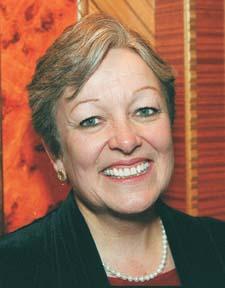 Wendy Keryk
When the news came a couple of days ago that Wendy Keryk had passed away, the image of her smile immediately popped up in my brain. I never saw her without it.
That smile, more often than not followed by a hug and questions about how my family was doing, always started our get-together. It was there even when I interviewed her over the phone. You could hear it along with that marvelous English accent--it virtually leaped out at you from the handset.
Her distinguished career--the role she played in propelling the window businesses at companies like Cameo, Home Innovations, Richloom and other vendors; her presidency of HFPA--speaks for itself. More than this, Wendy was one of a brigade of window-treatment veterans who made what may seem like a mundane product category come alive, for retailers and consumers alike.
And for reporters. I have said elsewhere that when I started covering this category about 20 years ago, I couldn't have hung a window treatment if my life depended on it, much less tell you what a valance or a cafe curtain or a pouf was.
But Wendy--along with numerous others including David Kahn and the Lichtenberg family--took me by the hand (literally, in Wendy's case) and showed me the ropes, enabling me to write about it with a measure of intelligence. They did this with an enthusiasm for the category that I hope will infect new generations of executives in the business, and make it exciting once more.
Thanks, Wendy.--David Gill
Visitation for Wendy Keryk is scheduled at the Hannemann Funeral Home in Nyack, N.Y., for this evening from 3-5 p.m.; and 7-9 p.m.; Friday 3-5 p.m.; and 7-9 p.m. (prayer service at 8 p.m.); Saturday at 8 a.m., with funeral service scheduled for 9:30 a.m.