Celebrity Designers: More Than a Name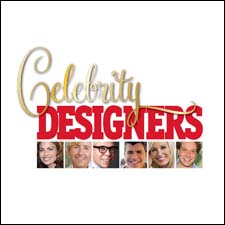 An HFN Staff Report
Celebrities come and go, but the best celebrity designers have staying power. Designers included here such as Candice Olson, Kathy Ireland and Thom Filicia have resonated with consumers for years; they know what their customers want--and they know their way around home furnishings trade shows such as High Point Market.
Consistent designers, such as Thomas O'Brien, Angelo Surmelis and Barclay Butera, help consumers--and thus, retailers--with a well-defined style philosophy. Consumers know they can count on these masters to deliver.
They're more than just names; their styles and products are easily recognized and highly desired. They're also some of HFN's top celebrity designers.
Candice Olson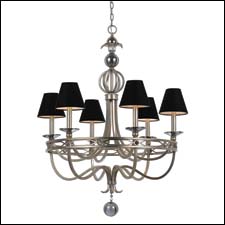 AF Lighting's Cirque series by Candice Olson. aflighting.com
Design doyenne Candice Olson is known for her elegant, classic design, which consumers can avail themselves of through her extensive licensed collection of home products, as well as by watching her television shows "Divine Design" and "Candice Tells All."
"My style is rooted in traditional design--classic scale, proportion and references--but reinterpreted and presented in a fresh contemporary way," she told HFN. "Lines are pared down, silhouettes refined, patterns simplified and rendered with unique, unexpected materials and fabrications. The end result? Home furnishings that are fresh yet familiar, current yet timeless."
Olson's first licenses were with Kravet Fabrics for upholstery and York Wallcoverings for wallpaper. Her newest one is with Simple Concepts for storage. She also has licenses with Surya for rugs, Century/Highland House for furniture, Revman International for bedding and bath, Paragon for wall art, Interline Brands/AF Lighting for lighting and Terraflame Home for ventless fireplaces.
"I am fortunate to design for several companies that cover the full spectrum of home fashion from upholstered furniture and case goods to fabric, carpet, lighting and art," Olson said. "There is nothing more rewarding than seeing all the collections--the entire vision presented together like we do in the Highland House showroom."
While Olson finds inspiration in fashion, art and movies, "when it comes to patterns, palettes and textures my inspiration comes from nature," Olson said. "The sky after a late evening summer downpour inspired one of my favorite palettes for this season, appropriately titled Storm." In addition, being a mother of young children and working on family-focused homes for years "has also had a huge impact on my approach to developing materials and finishes."
Olson said her target customer is "anyone who has an appreciation for rooms that reflect an everyday elegance with a casually contemporary aesthetic. My products are designed with high style, function, durability and practicality in mind, and who doesn't love that?"
Kathy Ireland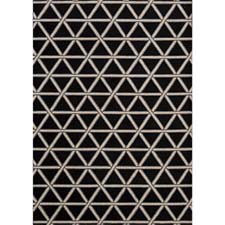 Nourison's new license with Ireland includes the Hollywood Shimmer collection. nourison.com
It all started with socks. Twenty years ago, Kathy Ireland signed a licensing agreement with a sock manufacturer as she was transitioning out of a successful modeling career. That was the start to what has since become an empire that now encompasses everything from furnishings to apparel to wedding destinations.
"It's rewarding. Twenty years later, we are still here," she told HFN. "Brands come and go; we are so grateful that our retailers and customers continue to embrace us."
Her licenses include her newest ones with Blue Ridge Home Fashions for basic bedding and Nourison for area, accent and bath rugs. "It's so exciting to team with [Nourison's] Peykar family. They're legendary in the home business," she said.
As of next year, Ireland will have partnered with Pacific Coast Lighting for ten years for her lighting line. Earlier this year, the two companies inked an agreement to extend the association through 2018.
has three target customers, she added. The first are the millennials, and while they might not know Ireland from her modeling career, "if she knows me, it's because her parents bought her [kathy ireland Worldwide] Princess Bouquet bedroom set," she said, adding that kiWW is getting ready to launch products in baby, plus toys and blankets. Another group is the Latina consumer, she said. "Growing up in California, I knew that customer was underserved," she said. "We've reached out to her from the very beginning," which has included having hangtags in both English and Spanish.
Moms are Ireland's third target audience. "I have a special connection with moms," she said, herself being a mother of three. "I understand how busy moms are." And in fact one of her taglines is "finding solutions for families, especially busy moms."
Most important to Ireland are the "four promises in everything we design and market: fashion, quality, value and safety."
And her favorite product design? "Our next one. I believe we are only as good as our next design."
Thom Filicia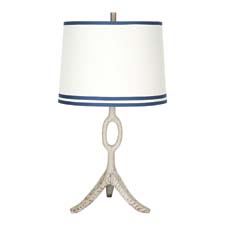 Filicia's new Packwood design from Safavieh. safavieh.com
Though he shot to national prominence as the interior designer on the successful television show "Queer Eye for the Straight Guy" 10 years ago, Thom Filicia has always lived and breathed design. Since launching his firm in 1998, he has built his brand on what he called the New American Style.
"Our aesthetic is the new American," he told HFN. "The idea is clean, classic lines but seen in a fresh, timely way. It feels hip and modern, but it's timeless design that's also comfortable and approachable." He credits his design foundation on the firms with which he worked early in his career: Parish-Hadley, Inc., Robert Metzger Interiors and Bilhuber & Associates. "It's really about a strong foundation of classic, rich designs."
His first licensing partners include furniture with Vanguard; textiles, trimmings and furniture with Kravet; artwork with Soicher Marin; rugs and now lighting with Safavieh; curtain hardware with Classical Elements; hospitality broadloom with Shaw; and, most recently, pillows and throws from Eastern Accents. "We're a design firm but we're also growing a brand," Filicia said. "We have a really nice collaboration with a variety of different manufacturers."
Filicia has had his rug line with Safavieh since 2009, and will expand to lighting as of January, when it launches at Las Vegas Market. "I've wanted to do lighting for a long time," he told HFN, and he "decided to work with an existing partner to launch a small collection." Filicia also debuted his new decorative pillows and throws line with Eastern Accents last month at High Point Market.
While his items throughout his licensed collections don't match exactly, he said, "they share a similar aesthetic. It's more about the lifestyle of a product; things that can cohabitate together."
In September, he opened is first to-the-trade showroom, Sedgwick & Brattle, at the New York Design Center in New York City. The showroom will feature products from the Thom Filicia Home Collection along with private label Sedgwick & Brattle items and one-of-a-kind vintage and antique pieces.
"We sell to a lot of designers and people designing homes. We've been described as having designs for designers, we have more of that aesthetic," Filicia said. His collection is "for people who are obsessed with design -- like me."
Kate Spade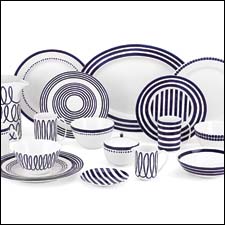 kate spade new york's Charlotte Street collection lenox.com
It started with a handbag. Twenty years ago, Kate Brosnahan Spade, a former accessories editor at Mademoiselle, decided to create the ideal handbag, employing sleek shapes and bright colors. Her first line of six bags was a hit and three years later, in 1996, the brand opened its first store, in New York City. Today, kate spade new york has more than 80 retail shops and outlet stores across the United States and more than 100 shops internationally where not only handbags, but shoes, clothing, jewelry, stationery, eyewear, baby, fragrance, tabletop, bedding and gifts all carry the brand's trademark flair and wit.
Lenox has partnered with Kate Spade for 10 years, and its successful tabletop program has often been used as a benchmark for designer licenses in the category.
"Lenox and the Kate Spade design team work together so well," said Lou Scala, senior vice president of marketing at Lenox. "This collaboration has enabled the brand to become the number-one designer brand in the department store channel. Needless to say we have a very strong, thriving business."
Since 2007, kate spade new york has been owned by Fifth and Pacific Companies, Inc., formerly known as Liz Claiborne, Inc. Deborah Lloyd serves as president and chief creative officer. "I love any excuse to decorate," she said when asked to describe her design style. "I believe in putting colorful accents, colors, and prints against a classic base. Flowers are a big passion of mine, so great vases are a must. I am always entertaining and I like tableware that can reflect the party I'm throwing."
Her biggest challenge in designing home furnishings, she said, has been convincing others to think boldly in terms of design. "My passion for color and print can be quite adventurous, so I often find myself encouraging others to step out of their neutral comfort zone and try something new." The most rewarding aspect of the job is "to see pieces I have designed or chosen come together and bring a beautiful room to life."
Even after 10 years the brand continues to innovate and bring fresh patterns and palettes to market. At last month's Tabletop Show in New York, kate spade by Lenox introduced Charlotte Street, a casual mix-and-match, blue-and-white dinnerware collection featuring bold stripes, rings and loops with sketch-like details. There were also three formal dinnerware introductions, two new stemware collections, new flatware designs and a whimsical giftware line called Daisy Place that featured black and white graphics accented in gold.
Lloyd said she is proud of all the pieces kate spade new york has turned out, and finds herself using them everyday. "The white Castle Peak vases with the subtle carved bow detail are currently my favorite," she said.
Monique Lhuillier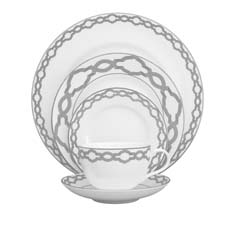 Embracedinnerware byMonique Lhuillierwaterford.com
Monique Lhuillier made her name in bridal in 1996, but the couture house she has since created--which now extends to ready-to-wear, jewelry, fragrance, fine paper and tabletop--is top-of-mind among the famous (including Halle Berry, Reese Witherspoon and Michelle Obama). Waterford added the designer to its portfolio in 2012; previously the Monique Lhuillier brand was carried by Waterford's sister brand, Royal Doulton.
Lhuillier said she is inspired by "a beautiful life, my travels, contemporary art and architecture" and describes her design style, as it relates to home furnishings, as "refined, elegant with a modern twist."
Lhuillier designs for both young couples starting their home together as well as those who love entertaining with a beautiful table. The most challenging thing about designing home furnishings, she said, is adding more of a fashion element to dinnerware by adding more color and bold designs. "While a simple banded pattern is truly elegant, I also love making a stronger design statement." The collection she is most proud of is her most recent one, called Embrace, which includes both dinnerware and crystal stemware.
"My crystal collection is cut like no other ... and Embrace, my recent dinnerware introduction, [is] bold, elegant and modern."
"Monique Lhuillier brings a modern, female perspective to our portfolio that reinforces the luxury lifestyle associated with the Waterford brand," said Jennifer Morganelli, vice president of trade marketing -WWRD Americas. "Together we have been able to create and expand on a premium collection designed for glamorous everyday entertaining. The product assortment has evolved by expanding the focus to crystal and stemware as well as a new feminine design technique developed for the Sunday Rose giftware collection. In addition, the bridal collection is enhanced by prestige giftware created at the House of Waterford Crystal."
The partnership has been fruitful for both partners. The most rewarding element of creating her tabletop collection, Lhuillier said, has been watching her collection grow into a meaningful business, "as well as seeing people around me use Monique Lhuillier Waterford to entertain and celebrate life's special moments."
Working with Lhuillier has improved Waterford's business through incremental global sales, more floor space at retail, and additional brand exposure through celebrity events, Morganelli said, as well as through print media coverage and social media.
Tommy Hilfiger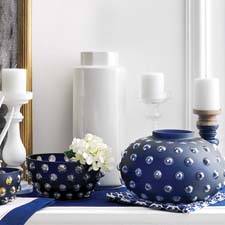 Tommy Hilfiger's LF USA collection also includes decorative accessories.lfusa.com
The New Year will bring a milestone to Tommy Hilfiger, with the formal debut of his home collection made under a license with LF USA, the subsidiary of Li & Fung.
From 1997 until now, Hilfiger's signature looks have been seen on bedding and bath products manufactured by Revman International. This license is set to expire at the end of this calendar year. In its initial launch next spring, the collection with LF USA will encompass bedding, bath, tabletop and decorative accessories. In fall 2014, the collection will expand to include furniture and rugs.
Each piece in the line will bear Hilfiger's long-standing design imprint, described in a statement from The Tommy Hilfiger Group as "American cool sensibility with a twist." The word "American" is one that features prominently in his style. "I've always been inspired by iconic American homes, and my wife, Dee, and I enjoy finding great art and cool vintage pieces to create an eclectic vibe," Hilfiger said.
To underscore his point, the initial collection features Hilfiger's heritage red, white and blue aesthetic--with the shades of red and blue very much aligned to the shades seen on the American flag.
"Our home collections embrace a unique take on the preppy lifestyle and all-American tradition," Hilfiger said. "Every piece reflects the classic American cool spirit at the heart of the Tommy Hilfiger brand."
"As a brand, we really stick to our preppy roots and always incorporate color and patterns," Trent Wisehart, Hilfiger creative director for North America, said. "Giving pieces a new, modern twist is inherent to the brand's identity, and you can see that reflected in our home collections."
Clearly, the Hilfiger brand also believes that its preppy aesthetic can extend the home collection's marketability beyond these shores. "As the brand has grown internationally, our signature prep style has gone global, with every individual interpreting prep in different ways," Wisehart said. "The preppy lifestyle is rooted in certain classics, but it differs across borders. We call it the 'globalization' of prep."
Reaching across the world is a key part of LF USA's strategy for the Hilfiger home line. "We are leveraging Tommy Hilfiger's global recognition and continued momentum to create a truly iconic international home collection," said Dow Famulak, president of LF USA.
The collection will make its first appearance at retail next spring, at select Tommy Hilfiger stores, department stores and specialty stores across the United States, Canada, Mexico and South America. It will also be available on tommy.com in these geographic areas.
"I had a lot of fun combining these inspirations with my love of design to create the new Tommy Hilfiger home line," Hilfiger said. "LF USA is a strong global partner, and I am excited to be working together on this line."
Jessica Simpson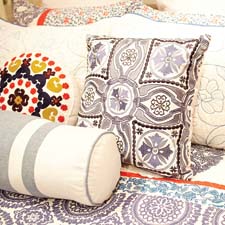 The Stripe Quilt is part of Peking Handicraft's Jessica Simpson collection. pkhc.com
Jessica Simpson is clearly a multitasker. Initially known as an actress, singer and model, since joining the world of fashion she has tackled numerous formats as well: apparel, jewelry, accessories, perfume--and most recently--home textiles.
In partnership with Camuto Group, a company specializing in lifestyle brands, she signed a license agreement with Peking Handicraft for a collection of comforter sets, duvets, embroidered quilts, bedspreads and accessories such as decorative pillows, bed skirts, Euro shams, throws, sheet sets, basic bedding and window treatments.
"Home interiors have always been a passion of mine," Simpson said. "I spend a lot of time at home, more so as a mom (she is the mother of two), and I want to create a sanctuary for myself and my family."
In terms of design, Simpson described the collection as "a great mix" of Bohemian prints, florals and ruffles with more neutral textures and chambray. She has categorized these looks as "casual classics. With the new bedding collection, we wanted it to have the same feeling as my clothing and accessories collections, but you can't change your bed every day. It has to feel classic."
Simpson's line will also present her versatility in design. "At home, I love traditional decor and, true to my roots, a little bit of country chic," said Simpson, a native of Abilene, Texas. "With all of my designs, we always have a touch of whimsy--that little extra detail that makes something feel special."
She said her family provides most of her design inspiration. "My mother, Tina, who works with me day in and day out on the Jessica Simpson collection, inspires me every day, and my children, who have already taught me so much about myself," Simpson said.
The Simpson bedding line is being geared toward upper-end department stores and independent specialty stores, and is slated to debut at retail in fall 2014. The comforter sets will range in price from $149 to $179, and the decorative pillows are set to retail at between $40 and $60.
\At Peking Handicraft, Simpson has joined an already impressive roster of designers including Trina Turk, MaryJane and Nanette Lepore. Mark Grand, the company's president, said, "Jessica Simpson has the uncanny ability to build and maintain a unique emotional connection with the American public."
The core demographic for Simpson's collection is women aged 18 to 35. "I like to think of the Jessica Simpson customer as every woman," she said. "She's the girl next door. She has personality and style. She wants the best for herself and her family, but she doesn't want, or need, to break the bank to get it."
Isaac Mizrahi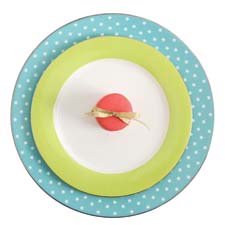 Issac Mizrahi's Dot Luxe dinnerware gibsonusa.com
Isaac Mizrahi, creative director of Excel Brands, brings passion and energy to nearly every project he works on, and the scope of those projects is considerable. When not designing runway fashion or more accessible clothing for Target or QVC, Mizrahi over the years has appeared on television shows like "Sex in the City" and "Ugly Betty;" was the subject of an award-winning documentary "Unzipped;" hosted his own series on Bravo and serves as a judge on "Project Runway All Stars;" and has designed costumes or directed productions for the Metropolitan Opera, the Mark Morris Dance Company, the Opera Theatre of St. Louis and the Brooklyn Youth Choir. He has received four awards from the Council of Fashion Designers of America for his work.
The world of Isaac Mizrahi includes fragrance, sportswear, dresses and accessories and, in 2012, extended to the home. Isaac Mizrahi licensees include Gibson Overseas for dinnerware, glassware, flatware, cookware, bakeware and gadgets; Safavieh for area rugs; Benson Mills for table linens; Jay Franco for bed and bath; Regal Home for window treatments; and Isaac Jacobs International for picture frames. Mizrahi brings his "happy perspective on color," as he once described it to HFN, to all these products.
"Color has been an important evolution," said Grace Saari, director of marketing for Gibson, describing the development of the Isaac Mizrahi tabletop and housewares collection. "2013 has been an exciting year for color in many of our Mizrahi collections, as we have added eggplant, lime and teal to a growing list of eye-catching colors, such as pomegranate, kumquat and more. Our dinnerware, glassware, flatware and cast-iron cookware are especially fun showcases for these colors. Unique applications of stripes, polka dots, plaids and ginghams add lovely dimension to the line.
"In terms of new dinnerware, the Dot Luxe pattern has emerged as an especially popular introduction," Saari continued. "Again, in an array of colors, and with a dot motif that feels lively and fresh. Flatware is also coming on strong. The designer label seems to be translating well for this product category where distinct fashion sensibilities have been more difficult to distinguish in a sea of stainless steel."
Partnering with Isaac Mizrahi has enabled Gibson to satisfy a broad range of customers, Saari said. "The brand really resonates with brides, allowing us to grow our bridal business with transitional patterns used for everyday and any special occasion. We have been able to forge stronger relationships with specialty and upscale retailers who recognize the appeal of Isaac Mizrahi to style-conscious consumers.
"Under Mizrahi, there's a classical inspiration with his much-loved contemporary flair. The vibrant pink packaging across each category has also been great for merchandising."
Thomas O'Brien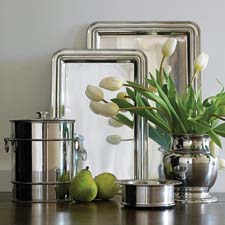 One of Thomas O'Brien's most recent creations is the Reed & Barton Heritage Collection.reedandbarton.com
Thomas O'Brien has been one of the most recognized names in home decorating for two decades, and his philosophy of reinventing classic design continues to be a driving force in the industry.
"I love vintage things and modern things of many styles, from textiles to furniture, lighting and dinnerware," O'Brien said. "I'm a cook, a collector, and all things home and domestic are part of my design world and my real world."
O'Brien has applied his distinctive filter of modernism to floor covering (Safavieh); lighting (Visual Comfort); tabletop (Reed & Barton); and furniture (Hickory Chair). O'Brien's eclectic designs are also available at mass through a longtime collection offered at Target.
"At one level, [I design for] the design-oriented client who is intent on really designing and furnishing a home," O'Brien said. "But also, and just as important, it's the homemaker, the cook, the individual involved in everyday living at home."
While O'Brien is perhaps best known by the mainstream consumer for his product designs, his design store, Aero, which opened in 1992 in Manhattan's Soho neighborhood, remains an inspirational constant.
"I love what I do in making products for the Aero shop in New York, including refurbishing and reinventing the vintage furniture and lighting that have always been at the center of my interests," O'Brien said. "And then, how those ideas have been translated through the years to all of my various product lines."
One of O'Brien's most recent creations is Reed & Barton's Heritage Collection, which focuses on classic items for entertaining and home decor. Items, including candlesticks, trays, frames, serveware and barware, are interpreted in a clean, refined style that bring antique features forward into modern forms and uses. All are in the spirit, O'Brien said, of items he would want to buy for Aero.
"The resurgence of the small, independent boutique and the individual artisan, in personality and in products, is what is exciting today and has always, honestly, been exciting to me," O'Brien said. "There is a whole new generation of talented and dedicated people making such handsome, crafted goods and wonderful small-batch foods and provisions. That's what I look for."
Barclay Butera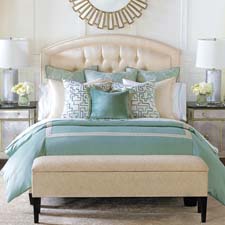 Barclay Butera's Central Park bedding collection for Eastern Accents.easternaccents.com
Barclay Butera sets his own course in style, describing himself as "definitely not a trend watcher."
Instead, the California-based designer is confident in his own glamorous, yet livable aesthetic.
"I spin a youthful, breezy, West Coast twist into my designs," Butera said. "So far it has been very well received. If I offer a classic Chesterfield sofa, you can bet I will mix it up with leopard pillows in a fabulous lush textile."
Butera looks to fashion and world travels for inspiration.
"I've been known to design an entire collection of home decor or lighting or rugs around a swatch of fabric, or a vintage piece that I've found at a flea market in Paris," Butera said. "A razor-sharp, well-cut jacket from vintage Saint Laurent might very well inspire a bedding collection. A fashion show in Milan might end up inspiring a new collection of carpets or fabric."
Butera added that he also finds "great ideas and inspiration across America, both in small towns and big cities."
He opened his design firm in 1994 in Newport Beach, Calif. Butera's fashion-for-the-home philosophy has remained consistent.
"Traditional that is never stodgy translates very well into furnishings and home decor," Butera said. "It's aspirational, but very attainable."
Under the Barclay Butera Lifestyle umbrella, the designer showed a bevy of collections with licensing partners at last month's High Point Market.
Eastern Accents offered a new, fresh color range for Butera in splashy coral and blue along with a classic white and soft tan. The flower fields of Provence supplied the inspiration behind the appropriately named Provence collection. Overscaled coral orange flowers embellish the bedding, offset by a blue and white stripe and shell pattern.
Playing off Butera's success with hide rugs and other animal print-infused designs, Mirror Image Home rolled out the Barclay Butera Serengeti Collection featuring frames in rich glossy leather skins that look like zebra and other animals. The company, which was showing at High Point for the first time, also showed metal, lacquer and wood designs from Butera.
Nourison expanded on its Barclay Butera Oxford design with new color categories. The new colorways--Breeze, soft celadon and sharp navy contrast with white; Citrus, tangerine lemon and lime; and Ports, sea blue, yellow and white--add zest to the already Hamptons-esque collection.
For Bradburn Lighting, Butera designed the Montauk Collection targeting consumers looking for the nautical look. Featuring beach bubble blue and teal glass, the lamps include nautical stripes.
"Fortunately we cross over many demographics," Butera said. "There are extremely high-end discerning customers that can afford anything and everything shopping my stores and seeking us out for big-scale design projects. I also have a whole new consumer base since I launched my licensing programs a few years ago.
"It's wonderful to provide good designs, extreme value and a high-low mix of product to a huge audience of loyal fans."
Angelo Surmelis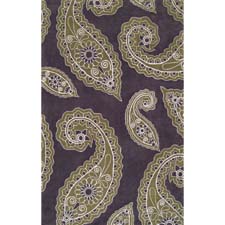 Surmelis' Hudson Park collection from Surya, handtufted in China. surya.com
With his ever-present fedora and easygoing style, Angelo Surmelis has been designing ever since he started rearranging furniture in his parents' apartment when he was five. Now he helps rearrange and redesign other people's homes affordably through his angelo:HOME collection. He also has done more than 10 series and specials on networks like TLC, Lifetime, Style and HGTV.
"My style is all over the design map," Surmelis told HFN. "Personally, I love when the things in our homes are a collection of different looks, eras and styles. We're not one-dimensional people, our homes shouldn't be either. Our furnishings and surroundings should be a reflection of us--how we want to live. I design my collection with that in mind and mix design styles all the time."
Earlier this year, Surmelis's lighting license debuted with AF Lighting, which focuses on color and affordability in a casual and fun design style. And in August, his mattress line with Jeffco debuted online, with the brick-and-mortar program launching last month at High Point Market. He also has licensed collections with Handy Living for furniture, Modus for bedroom furniture, Surya for rugs and Hallmart for top of bed. In addition, angelo:HOME galleries are now in more than 100 stores and more are opening every week.
The most rewarding part of this business has been "my friendships and partnerships with the retailers and reps that I get to work with, as well as my partnership with my friend and manufacturing partner Tom Erdman from Handy Living," he said. "I couldn't do what I do without these amazingly passionate people."
Unlike most other designers, Surmelis didn't take the traditional path to interior design. Instead, "I studied architecture, fine art and theater," he told HFN. "So, when my path led me to design, I was using other influences and inspirations to make design decisions. The more I can look at and be inspired by things outside of my design world, the more creative I can be."
Marchesa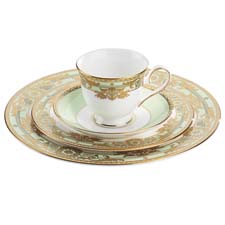 Marchesa Rococo Leaf dinnerware lenox.com
Marchesa is a red carpet regular. The couture fashion label was created by friends Georgina Chapman and Keren Craig in 2004 and its creations, known for their exquisite detailing and super femininity, have caught the attention of dozens of A-list celebrities.
Chapman and Craig, who met at Chelsea College of Art and Design in London, have since expanded their empire to include bridal, handbags, fragrance and tabletop, which is made by Lenox.
When asked about their design style and how it relates to home furnishings, Chapman said, "Marchesa is all about romance, drama and femininity. We like to bring a sense of this to our Lenox collection by way of mixing bold colors with interesting textures with original handpainted motifs.
"Our collection for Lenox features the same bespoke detailing and intricacies that exist in our runway collections." Craig added, "Our design mantra is 'more is more,' and this applies to our Lenox collection as well. We love to translate the feeling of embellishments, beading and lace which we use in our collections into our dinnerware."
The designers are guided by their muse, the Marchesa Luisa de Casati. "She was so daring and really knew how to express herself through fashion by taking risks," Chapman said.
"We also often look to art, film and history," said Craig. "Our latest collection was derived from this notion of a young woman discovering a Victorian-style curiosity case, filled with a myriad of treasures like butterflies, birds."
Lenox began its partnership with Marchesa at the end of 2009 and launched the first collection at the April 2010 tabletop market. Since then, additional categories were added to the collection, including casual porcelain dinnerware and 18/10 stainless-steel flatware. "Interestingly, the young millennial bride continues to have a strong relationship with this brand and relates very well to the exquisite details found in patterns like Empire Pearl," said Sherri Crisenbery, vice president of Lenox Brands. "Marchesa by Lenox has very successfully provided a new pricing tier at the higher end with more opulent and lush designs than would normally be found in our core Lenox brand."
"We have learned so much in this partnership with Lenox--it's really exciting to bring different patterns and colors to life on dinnerware and glassware," Craig said. "We work closely with the team at Lenox to realize our visions and are always so pleased with the level of detail we are able to achieve."
"China, glasses and flatware are a completely different medium than dresses and handbags," Chapman added. "It's been a really fun challenge to figure out how to bring our signature aesthetic to life in this way."
The partnership has had it rewards. Chapman said bringing the essence of Marchesa to another part of life has been the most satisfying aspect of the endeavor. "I have heard from brides who wore a Marchesa bridal gown on their wedding day, and then purchased our Marchesa by Lenox collection as their wedding china. It's really a huge compliment to be such a big part of a woman's most important moments in that way."
"We have noticed that, aside from the huge interest we have from wedding registries, there is a large demand from people that want something unique and special in dinnerware and accessories," Craig said. "We are so happy to offer these customers a bit of Marchesa for their kitchens and homes."
Von Tobel Cites Brass Textures Among Top Trends

   More Videos
Subscribe to
HFN Omnichannel
Receive the news you need to know about the trends in the industry delivered right to your inbox.


HFN's DIGITAL EDITION

September 2017


COVER STORY:

2017 State of the Industry Report
Cautious Optimism, Mixed Results

Many expected 2016 would be a banner year, but the political and economic climate softened consumer confidence. It was also a year consumers spent more lavishly on home remodeling rather than decorating.


ALSO IN THIS ISSUE:

TJX Unveils First U.S. Homesense Store - In a time when retailers are reducing store counts, TJX continues to get physical.
Ikea's Fluid Spaces - The retailer's new intros reflect multifunctional rooms.
N.Y. Home Fashions Market Preview - Textile textures get soft and cozy, colors warmer.

Subscribe to Digital Edition
Tweets by @HFNmag