Color Cues
Posted on 
October 11, 2013
 by 
What goes into picking a color palette for the year ahead? Pretty much everything. The major paint companies as well as color authority Pantone find inspiration from the worlds of fashion, design, mathematics, science and the natural world, as well as from prevailing consumer moods and interests. Thus the themes for 2014 range from a serene palette comprised of delicate shades (reflecting a need for balance and simplicity in life) to more opulent and vibrant hues that are energizing and imply a sense of curiosity. Each of the color stories featured here represents only one of several palettes predicted by each color expert.--Allison Zisko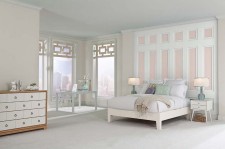 Sherwin-Williams
The colors in the Diaphanous palette are light, delicate and translucent and are meant to evoke tranquility, sensuality, serenity and escape--an antidote to society's need for overconsumption. "Silk, chiffon, feathers, natural wool, rose gold, barely-there patterns and soft florals are key to this palette," said Jackie Jordan, director of color marketing for Sherwin-Williams. The palette represents strength tempered by softness, she said. "We are experiencing this blurred duality all around us, from menswear influences on feminine clothes to the soft-touch material on electronics."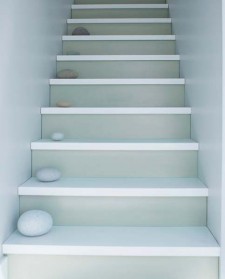 Benjamin Moore
Softer and lighter are the key words for describing Benjamin Moore's color forecast for 2014, influenced by softer lines in furnishings and people's need to relax and take a deep breath. The palette of 23 colors (edited down here) offers hints of color, off-set by midtones, complex neutrals and deeper hues. One of the color families that stood out is blue--pale, mid-toned and a little more grayed. Thus Benjamin Moore's color of the year for 2014 is Breath of Fresh Air, shown in this stair shot, along with Palladian Blue and Normandy.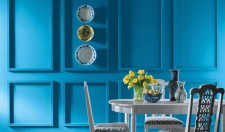 Pantone
Fluidity is the palette that understands the inevitable human need for life-sustaining cool water tones, rendered largely in dazzling blues and blue-greens. These cooling hues are underscored by shimmering sea grass shades and undersea-creature colors, such as absinthe green, violet tulle, blazing Samoan sun, dewberry purple and two eye-arresting orange-coral tones. The blue room depicted here is Pantone's Turkish Tile, part of the Pantone Universe Paint Collection by Valspar.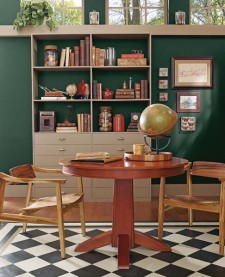 Behr
Natural Avocation spotlights hobbies, curiosity and exploration through rich color. Here the world of science and nature is expressed through local flora and fauna; design elements include weathered maps, antique books, geological artifacts and illustrations of birds, plants and insects.
TO VIEW LARGER IMAGES GO TO: http://www.hfnmag.com/product-gallery/trends-color-cues-october-2013/
advertisement
advertisement
Tweets by @HFNmag