Make a Date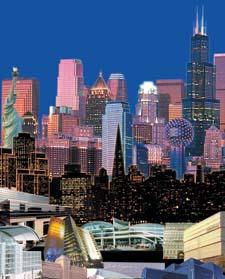 As usual, next year's six-month trade show calendar starts with a bang with a plethora of January events. Trade shows from Hong Kong to High Point, N.C., beckon members of the home furnishings industry through June. Here's a partial list of trade show happenings. See the full calendar of events at hfnmag.com.
JANUARY
Consumer Electronics Show
The International CES, the consumer-electronics megashow, opens the trade-show year and runs from Jan. 10-13 at the Las Vegas Convention Center. CES is both the largest trade show in the nation and the world's largest consumer-technology trade show, according to the Consumer Electronics Association, which owns and produces the event.
The show will encompass more than 1.6 million net square feet of exhibit space, to be occupied by more than 2,700 exhibitors from 140 countries. CEA said it expects more than 140,000 attendees at the show, with some 30,000 from outside the United States.
Those attendees will be there to see more than 20,000 product launches ranging across categories such as 3-D, mobile digital television, tablets, downloadable applications, Internet-connected TV, green technology and others.
Among the more notable features at the 2012 CES will be an expanded lineup of wireless exhibits. The show will have two wireless-related TechZones: Access on the Go, which will highlight mobile devices that deliver on-the-go content such as music, movies, TV, books and magazines; and MEMS TechZone, which will showcase companies that are driving the adoption of micro-electro-mechanical systems in mobile phones, game consoles, tablet personal computers and other devices.
Still another TechZone, called FitnessTech, will be devoted to sports and fitness products. It will include an address by Jillian Michaels, the TV fitness guru, who will discuss the impact of digital innovation and her recent partnership with BodyMedia, an on-body monitor company. Michaels' presentation will take place on Jan. 10.
Heimtextil
The official kickoff to the textiles trade calendar year, as usual, will be Heimtextil at Messe Frankfurt Fairgrounds in Frankfurt, Germany, from Jan. 11-14. "The sector relies on Heimtextil as the world's leading marketing and ordering venue and we are looking forward to an event distinguished by numerous top exhibitors," said Olaf Schmidt, vice president of textiles and textile technologies of Messe Frankfurt, the show's owner and manager.
This past January, Heimtextil welcomed about 73,000 attendees from 136 countries, who came to see the wares of about 2,600 exhibitors from 60 countries. Heimtextil 2011 featured an optimized hall structure for the home-textiles segment--moving the wallcovering area to Hall 3.1, transforming Hall 4 into an area for window treatments and upholstery, and moving the designer area from Hall 1.1 to Hall 4.2. The only change for the 2012 fair will be the moving of the home-engineering product group from Hall 4.2 to the eastern half of Hall 5.1.
Not only is Heimtextil a showcase for new products, but it also serves as a bellwether for design trends in upcoming seasons. For the upcoming show, seven design studios from around the world have teamed up to spotlight relevant trends from the international textiles scene. They will be on view at the Trend Show in Forum 0 during the show, and can be seen online at heimtextil.trends.com in the Heimtextil "Montage" Trend Book.
Atlanta International Gift & Home Furnishings
Atlanta International Area Rug Market
Now that Building 2's West Wing has been established as AmericasMart's gourmet housewares arena, AmericasMart will give the building a lifestyle theme designed to blend categories that include giftware, tabletop, entertaining and gourmet housewares at the next Atlanta International Gift & Home Furnishings Market (Jan. 11-18). AmericasMart has added a corridor that connects the eighth floor of Building 2 to the Building 2 West Wing, allowing attendees easier access between the segments and showcasing the gourmet kitchen demonstration area from a wider perimeter. Approaching its third year in the West Wing, the gourmet housewares category has been integrated into the market's footprint and is becoming an increasingly important piece to the lifestyles/home segment.
During the Atlanta International Area Rug Market Featuring the National Oriental Rug Show (Jan. 12-15), the market's annual America's Magnificent Carpets Awards program, to be held on Jan. 13, will also see some new features. It will take place at a new venue--the Oceans Ballroom at the Georgia Aquarium, which features floor to ceiling aquariums. Food will be provided by the Wolfgang Puck Catering company. The event will also see the introduction of two brand new area rug categories--Indoor/Outdoor and Licensee.
Then on Jan. 14, beginning at 10 a.m., attendees will be able to see the rugs at a complimentary breakfast banquet at the Museum of Introductions (MOI) gallery, and meet some of the designers and exhibitors.
AmericasMart will also have new categories in Temporaries, as well as lots of new exhibitors.
Domotex
At this year's Domotex (Jan. 14-17), "customized living" will be the main theme.
Deutsche Messe has significantly extended the functionality of its online exhibitor database at domotex.de, so that exhibitors can now include more detailed descriptions of their companies and products, and can add photos, logos, application examples and much more.
Domotex will also debut Match and Meet, a new Internet-based service that matches exhibitors with what attendees are looking for after they create a personal profile at domotex.de. The matchmaking software then compares the search requests made by visitors with the exhibitor and product profiles stored in the Domotex exhibitor database. Users automatically receive lists of matches, complete with contact details, so that they can contact potential partners to arrange meetings.
The DOMOTEX2go mobile trade fair guide, now in its second year, makes all the key Domotex website functions available to users of cell phones and smartphones.
Tex-Trends India
Domotex India's largest textiles trade show, Tex-Trends India is scheduled to take place from Jan. 19-21 at the Pragati Maidan convention center in New Delhi. More than 1,000 exhibitors are expected to display their wares at the upcoming event.
The show will cover the entire gamut of textiles and finished products. In the home furnishings segment, attendees will find bed linens, napkins, cushion covers, floor mats, window treatments and embellishments. Also on display will be carpets, dhurries, decorative gift items, and textile-based handicrafts.
International Dallas Lighting Market
The lighting industry will see the debut of many freshly renovated showrooms as well as new resources for buyers at January's International Dallas Lighting Market (Jan. 19-23).
New showrooms Recesso Lighting, Trade Mart (TM) 3-3656.06; SLV Lighting, TM 3-3656.02; and Star Fire Crystal, TM 4-4509, will open for the first time during January Market. The following lighting showrooms have expanded: Cal Lighting, TM 4-4323; Elegant Lighting, TM 3-3050; Eurofase, TM 4-4012; Hinkley Lighting/Fredrick Ramond, TM 3-3210; Lite Source, TM 4-4804; Murray Feiss/Monte Carlo Fans, TM 4-4010; Quoizel Lighting, TM 3-3200; and Worldwide Lighting, TM 3-3420.
Also, the following showrooms have relocated for January Market: Adesso Home, TM 4-4906; Bethel International, TM 3-3220; Craftmade, TM 4-4902; Edge Lighting, TM 4-4515; Landmark Lighting, TM 3-3606; Northeast Lantern, TM 3-3800; Preciosa, TM 3-3935; Toshiba, TM 3-3656.09; and Varaluz, TM 4-4507.
The American Lighting Association will present several educational seminars during the market in World Trade Center (WTC) 3-345: "Ideas for New Light Sources for High Quality Residential Lighting to Replace the 100 Watt 'A' Lamp," on Jan. 20 from 8-9:30 a.m. and "Lighting Concepts for Upselling to the Boomer Generation for the Residential Lighting Setting" on Jan. 20 from 4-5:30 p.m., both presented by Fred Oberkircher, FIESNA, Educational IALD, IDA, LC; as well as "How to Buy Right and Update Your Showroom" on Jan. 21 from 8:00 to 9:30 a.m., and "Educate and Motivate Your Sales People for Today's New Market" on Jan. 21 from noon-1:30 p.m., both presented by Denis Caldora.
In addition to these seminars, Dallas Market Center will present "Digital Day" on Jan. 20. Classes will be held in the Internet Lounge, WTC 1-147A, behind Starbucks. During this full day of educational sessions, digital marketing experts will teach the ins and outs of marketing tools including social media, email marketing, website optimization and more. Classes will be held for all levels of expertise -- from true beginners to advanced users of social media. Each mini-session will include a Q&A portion for attendees who have additional questions.
And then the ARTS Awards, presented by the Accessories Resource Team and the DMC, will be presented during a gala event on Jan. 21, at the ARTS Awards new location, the Hilton Anatole Hotel.
California Gift Show
A fresh California perspective defines the January 2012 California Gift Show, which takes place at the L.A. Mart and at the Los Angeles Convention Center, from Jan. 18-24 in the permanent showrooms and from Jan. 20-23 in the temporaries. Special exhibitions include California Bespoke, a juried exhibition of California-made custom pieces, and Destination L.A., a collection of pop-up workshops.
Chicago Market
Opening on Jan. 19 and running through Jan. 24, the Chicago Market will showcase the latest trends and products for gift and home in the Merchandise Mart's permanent showrooms, on the temporaries floor and at Beckman's Handcrafted Show.
"Based on our buyer feedback we are looking forward to a strong start this year," said Mark Furlet, vice president gift + home, Chicago Merchandise Mart. "The retail buyers who are planning on attending in January are sharing with us their excitement to find fresh, innovative products in the most popular categories at our market; January will have a number of surprises in store."
Maison & Objet
Macef
On the international circuit, Maison & Objet will take place in Paris Jan. 20-24, followed by Macef, which will take place Jan. 26-29 in Milan, Italy, featuring the best made-in-Italy home designs as well as Italian and international products. The show is divided into four main sectors: Home Decor; Tableware, Silverware & Kitchenware; Gifts, Trade & Big Volume; and Bijoux, Gold, Fashion & Accessories. Among the planned special events is the "Special Occasions" exhibit curated by the editor of Vogue Sposa and reflecting the contents of the second edition of BonVivre, a magazine entirely devoted to special occasions, moments and junctures of life that go beyond the wedding gift registry. In addition, Rosenthal will celebrate the 50th anniversary of Rosenthal Studio Line with the travelling exhibition "50 Years, 50 Vases."
Surfaces
Hard and soft floor coverings show Surfaces will take place this Jan. 23-26 at the Mandalay Bay Convention Center in Las Vegas. It is co-located with StonExpo/Marmomacc Americas.
New York International Gift Fair
New York Gift and Home Textiles Market
The winter edition of the New York International Gift Fair takes place Jan. 28-Feb. 2 at New York City's Jacob K. Javits Convention Center and Passenger Ship Terminal Piers 92 and 94. A new Driven by Design marketing campaign has been launched for this market, which is reflective of the design resources throughout NYIGF's 10 divisions and complements the NYIGF's three-year strategic reorganization which culminates in 2013 with the introduction of four comprehensive market categories--Home, Craft, Lifestyle and New.
"Design is a common denominator among all of NYIGF's 10 divisions and a key differentiator from other U.S. gift, home and lifestyle markets," said Dorothy Belshaw, NYIGF director and GLM senior vice president. "This new campaign allows us to showcase NYIGF's design orientation beyond Accent on Design and Handmade--both widely recognized for their superlative aesthetics - into NYIGF divisions which are categorized by product type."
An additional focus for the winter 2012 market is housewares, following the success of the summer 2011 launch of the Gourmet Housewares Show at NYIGF. An expanded concentration of leading housewares suppliers will be presented within the Tabletop & Housewares division this winter.
NYIGF's other category-specific product neighborhoods will continue to grow and evolve for the winter market, with expansion of the new "On Trend" neighborhood in General Gift and the "Artisan Jewelry Showcase" within New York's Newest.
A full schedule of educational sessions and after-hours events will be offered, addressing color and design trends, sustainability, social media and retail strategies and other topics. Special events planned during NYIGF include "A Night on Broadway," with specially-priced tickets to a popular Broadway show; Gift For Life's 20th Anniversary Event, "Party for Life 2012;" and free admission to a leading cultural institution, compliments of New York Market partners.
Concurrently with the New York International Gift Fair (Jan. 27-Feb. 2), Gift & Home Textiles Market Week will take place in its two traditional venues, the showroom buildings at 7 W New York and 230 Fifth Ave., both in New York City.
New for 2012 at 7 W during New York Gift & Home Textiles Market Week will be Shop 7 W First on Friday, in which 7 W showrooms will officially "open" for market, gift bags and showroom specials included. Exclusively only on Monday and Tuesday, 7 W will provide each buyer with a lunch voucher. On Monday from 5 - 8 p.m. 7 W will continue with its traditional late-night shopping with food and drinks throughout the floors along with live music.
There will also be free Market Week admission to The Museum at FIT Friday, Jan. 27 - Thursday, Feb. 2, Seventh Avenue at 27 Street. Present your badge to see "The Great Designers, Part One," showcasing more than 50 garments and accessories by designers from Alaia to Zoran, including work by Gabrielle "Coco" Chanel, Christian Dior, and Miuccia Prada.
Las Vegas Market
The winter edition of Las Vegas Market (Jan. 30 - Feb. 3) will feature a number of signature and new-to-market programs and seminars, including: naming designer Jamie Drake as Design Icon at this market; a First Look trends presentation featuring HGTV's Monica Pedersen; insight into the rapidly spreading Buy Independent/Buy Local Campaigns with a presentation by American Independent Business Alliance (AMIBA) co-founder Jeff Milchen; a celebration of influential women in the home and design industry by WithIt; and green designs for the future with the Sustainable Furnishings Council's LuxeEco and One Good World panel discussion.
The market also continues to offer such exciting market destinations as Design & Living, Las Vegas Design Center, Vegas Kids, Home Furnishings Temporaries, Gift+Home, Lodge Living and Specialty Sleep. The market will also debut new showrooms for furniture industry leaders Bassett Furniture and Lazar and, in the Las Vegas Design Center, expanded showrooms for Cyan Design and Kathy Ireland Home by Omnia Furniture as well as a new Trans-Ocean/Liora Manne showroom. Gift+Home will have a new permanent showroom by Ohio Wholesale, as well as expanding showrooms for Creative Co-Op, Saro Trading, OneCoast, Homestyle, UMA Enterprises and Accent Decor.
In addition, the Las Vegas Market will feature a special Made in USA pavilion in Building B, 2nd floor (B2) to highlight companies whose products are American made, and American-inspired displays will complement the pavilion.
Entertainment in the Grand Plaza, held nightly from 6 to 8 p.m., will include a food truck festival with a DJ spinning tunes on opening night, Monday, Jan. 30, 2012; a 1970's inspired "Boogie Nights" disco party on Tuesday, Jan. 31, 2012; and a Sunset & Desserts event on Wednesday, Feb. 1, 2012.
And on Tuesday, Wednesday and Thursday from 7:30-10:30 a.m., the market is offering a complimentary Grab 'N' Go Breakfast in the Grand Plaza.
FEBRUARY
Ambiente
Ambiente, the grand dame of the winter's European trade shows, takes place in Frankfurt, Germany, Feb. 10-14.
New for 2012 is "Solutions," a curated exhibit in the foyer of Hall 4.0 that provides an overview of clever solutions demanded by consumers in terms of cooking and dining. The exhibit will highlight new materials, new techniques and new properties.
Contract business will be one of the pivotal themes at Ambiente 2012, which will be strengthening its commitment to an expanding global market segment. Fair organizer Messe Frankfurt defines Contract Business as "equipping entire objects with product lines like tableware, glassware, cutlery, lamps, home accessories or furniture." It is targeting interior designers, interior architects, boat builders, caterers and the high-class hotel business.
The Copenhagen-based Design Centre has been made an exclusive cooperative partner with Messe Frankfurt this year and will put on a special show to present Danish design.
The partner-country program will include an official tour with representatives from business and politics, as well as a day devoted to cultural themes.
The Kitchen Innovation of the Year award honors innovation and outstanding quality in kitchen and tabletop products. The award-winning products can be seen in an exhibition in the foyer of Halls 5.1 and 6.1, where there will also be live cooking demonstrations using these products.
Messe Frankfurt will also introduce the Upgrade bonus package at Ambiente for small retailers. This package of benefits is tailored to the needs of lifestyle retailers. The program is open to buyers with up to 10 employees in the gift, furnishing, glass, porcelain and ceramic trades, who are invited to register via the Ambiente website, ambiente.messefrankfurt.com. The package includes a free admission ticket and vouchers from vendor partners.
"With our Upgrade bonus package, we offer retailers in the lifestyle business an optimum range of services and benefits," said Sabine Scharrer, Living director for Ambiente. "The attractive partner vouchers, the personal service and free admission help retailers order more efficiently and thus make their visit to the fair even more worthwhile."
MARCH
New York Home Fashions Market
March 5-8 brings along the first of the two annual New York Home Fashions Markets. It will take place at its usual venues in New York City: the showroom buildings of 295 Fifth Ave., 261 Fifth Ave., 230 Fifth Ave. and 7 W New York, and at other locations around Manhattan.
International Home & Housewares Show
The International Home & Housewares Show, one of the biggest events of the year for the housewares industry, is adding a half day to its show calendar this year to give buyers more time to meet with suppliers. The Chicago show opens Saturday, March 10 at 12:30 p.m. and has a soft ending at 5:30 p.m. Hours for the remaining days are: Sunday, March 11 and Monday, March 12, 8:30 a.m. - 5:30 p.m. (soft close to 6:30 p.m., if in a meeting at 5:30 you can continue till 6:30); and Tuesday, March 13, 8:30 a.m. - 5 p.m. There will also be a reception on Monday night, 5:30-7:30 p.m. in the Vista Ballroom, room S406A of McCormick Place.
Some of the show enhancements this year include Housewares Connect 365. Buyers can search, plan and communicate with this year-round tool to make their visit as productive, profitable and manageable as possible. They can search the show for exhibitors and products; save the searches in their personal briefcase; create customized floor plans based on their saved searches; print out a full list of exhibitors before they go; and communicate with exhibitors directly through Housewares Connect 365 without having to use their personal email. New this year is the ability to view videos posted in exhibitors' listings and read additional information about their company and products.
The show is launching its own mobile application for Housewares Connect 365. Beginning in January, the free app can be downloaded from the iTunes Store or Android Market.
Discover Design, the show's newest category, features 100 exhibitors of the latest in high design from Europe and around the world. Each product is competing for the gia award for product innovation.
The Housewares Show will debut a new look this year, including new Expo entryways featuring video monitors with live feeds from the cooking theater and show seminars.
Show seminars include a keynote presentation on March 11 at noon (speaker information was unavailable at press time); "Top Trends 2012: Get Focused, Be Innovative, Stay Visible" by Tom Mirabile, IHA's trend forecaster and senior vice president, Global Trend & Design, Lifetime Brands, on March 12 at 7:30 a.m; and "Future Color Trends--Fantasies and Realities" by Leatrice (Lee) Eiseman, IHA's color expert and executive director, Pantone Color Institute, on Monday, March 12 at noon. Eiseman will also share some insights and moderate a presentation that will explore the pros and cons of color forecasts and usage in the Far Eastern market on March 13 at noon.
For the first time, show exhibitors' latest creations and cutting-edge innovations will receive award recognition with the first IHA Innovation Awards for new products. The finalists will be spotlighted in the new product showcases located in the Buyers Club in each building. A panel of expert judges will select five submissions to represent the best in each of 12 product categories. Winners will be announced at 4:30 p.m. Saturday, March 10 in Room E350, just steps from the Hall of Global Innovation. A reception will follow at the display in the Hall of Global Innovation.
APRIL
New York's Tabletop Week is April 17 - 20, and buyers will have the opportunity to visit permanent showroom buildings Forty One Madison, 7 W New York and 230 Fifth Avenue, as well as myriad other vendor showrooms across the city.
Forty One will welcome attendees with specially decorated lobby tables and will host a party on the Wednesday night of the show. It will also offer another interior designer day, which Editor-at-Large will film. It will also celebrate new showroom openings, and will offer a buyer lounge with Wi-Fi access as well as refreshments in its lounge cafe throughout show.
At 7 W buyers will get a chance to see a Pop-Up Shop with help from Christina Norsig, CEO/Founder of PopUpInsider, the first national online exchange for temporary real estate. Norsig will help style a shop in the building lobby using products from the building's showrooms.
Daily amenities include complimentary coffee for buyers, along with an open space accessible with computers, Internet access, printers, fax machine, and industry periodicals. Buyers also receive complimentary lunch at the building's Antique Cafe.
Hong Kong Houseware Fair
One of Asia's largest trade shows, the Hong Kong Houseware Fair offers various houseware products, like bar accessories, handicrafts, hardware & DIY, home decorations, kitchenware, gardening & outdoor accessories and tableware. Organized by the Hong Kong Trade Development Council, the fair will be held at the Hong Kong Convention and Exhibition Centre April 20-23.
High Point Market
Show organizer High Point Market Authority calls its spring show, scheduled for April 21-26, "the next six days that matter," and we're not about to argue.
Attendees will see miles of showrooms, thousands of new products, and educational and social events from pretty much dawn to dusk. In April, the HPMA will repeat its Style Spotters program in which home fashion trendsetters will showcase their favorite products and trends. Style Spotters walk the show, capturing images of their favorite looks and on-trend products. Then, they post and curate their favorite looks on Pinterest, a website that lets users organize and share photos on virtual pinboards.
High Point's spring show will also see the return Six Causes That Matter, which spotlights a different charity each day of the show.
MAY
Surtex
Surtex, the design trade show, is scheduled for May 20-22 at the Jacob K. Javits Convention Center in New York City. According to Penny Sikalis, vice president of the show's owner and manager, GLM, the show is expecting some 300 exhibitors and 6,000 attendees. In the 2011 show, the number of exhibitors was 277, up 23 percent from the prior year.
A first for the 2012 show will be the presence of brands. These will include artists who have branded themselves and other types of brands that offer artwork, Sikalis said. Also, GLM is anticipating an increased presence of artists from Europe.
The 2012 Surtex will offer an expanded resource hub, which at the show will include trend service companies and software companies. Other resources for designers, both exhibitors and attendees, will also be in the resource hub.
International Contemporary Furniture Fair
North America's premier showcase for contemporary design, the ICFF, which takes place May 19-22, annually lures trendwatchers looking for the most up-to-the-moment offerings.
More than 500 exhibitors from all points of the globe will display contemporary furniture, seating, carpet and flooring, lighting, outdoor furniture, materials, wall coverings, accessories, textiles, and kitchen and bath for residential and commercial interiors. The show, located at New York's Javits Center, also offers educational programs and supplementary exhibits.
JUNE
Dallas Total Home & Gift Market
In June, the lighting industry returns again to Dallas for the second Dallas International Lighting Market of the year, scheduled for June 21-24, which is part of the Dallas Total Home & Gift Market (June 20-26).
Von Tobel Cites Brass Textures Among Top Trends

   More Videos
Subscribe to
HFN Omnichannel
Receive the news you need to know about the trends in the industry delivered right to your inbox.


HFN's DIGITAL EDITION

September 2017


COVER STORY:

2017 State of the Industry Report
Cautious Optimism, Mixed Results

Many expected 2016 would be a banner year, but the political and economic climate softened consumer confidence. It was also a year consumers spent more lavishly on home remodeling rather than decorating.


ALSO IN THIS ISSUE:

TJX Unveils First U.S. Homesense Store - In a time when retailers are reducing store counts, TJX continues to get physical.
Ikea's Fluid Spaces - The retailer's new intros reflect multifunctional rooms.
N.Y. Home Fashions Market Preview - Textile textures get soft and cozy, colors warmer.

Subscribe to Digital Edition
Tweets by @HFNmag