Seidman's Diamond Jubilee
Posted on 
September 16, 2010
 by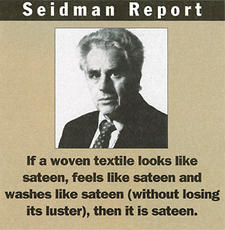 Seen here with his HFN column, Semour Seidman has edited his news bulletin for 60 years.
By David Gill
The Seidman News Bulletin turned 60 last month.
The bulletin has appeared every week since its debut in 1950, totaling more than 3,000 issues. Seymour Seidman, the publication's editor, launched the bulletin after he joined Wamsutta as merchandise manager--a position he took after serving several years running the textiles section of DNR, the trade newspaper.
The publication's original name was the Wamsutta News Bulletin. In 1954, Seidman went independent and gave the newsletter its current name.
The bulletin has maintained the same two-page, Courier type-face format for many years. This format has remained the same even as the industry he covers has undergone several key changes.
Reflecting on a career that included several years in the '90s as a columnist for this publication (called HFD when the column started), Seidman said one of the big changes is the transformation of home textiles--sheets and towels in particular--into price-driven, promotional products. "When I started, the retailer had a fixed markup in mind when selling textiles," he said. "Today the retailer only looks at the price that'll sell the goods. He may sell a towel that is $3 wholesale for $3 if it sells the goods."
Seidman said overproduction and the reduction in retail outlets are two of the reason for this change in the retail mindset. "Also, the retailer looks at home textiles as an image of value," he said. "If he gives away a sheet or a towel, he makes the consumer feels it's a great value."
The nature of brands has also transformed in the six decades of the Seidman News Bulletin. "Brand names don't mean what they used to," Seidman said. "In earlier years, it took time and money to establish a brand. Today if a sheet or towel gets floor space, it's a brand, whatever the retailer chooses to call it."
Even as he marks the bulletin's birthday, Seidman is looking ahead to more changes in the industry in the future. "I believe that for the first time in many years, there is a chance to revive U.S. textiles manufacturing," he said. "The labor force is there. You can get a skilled labor force for much less the cost than it was when there were many major mills in the country. Also, the costs of manufacturing and labor in China are rising to the point where maybe U.S. manufacturers can be competitive again."
Seidman, who was recognized by the Home Fashion Products Association as a Dean of the Industry in 1996, added that investor groups may have some interest in restarting textiles production in this country. "They would need guidance from industry veterans," Seidman said. "I think retailers could drive this, too, because the business is so basic and routine."
Video: Color Comes on Strong at High Point Market

   More Videos
advertisement
advertisement
Tweets by @HFNmag