Opinions
September Textiles Showroom Market Opens Today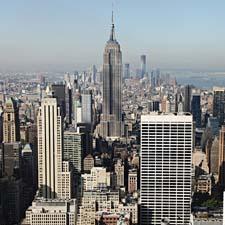 NEW YORK-The second of this year's two New York Home Fashions Markets formally opens today, with the vendors prepared to launch what they hope will be a group of winning products and patterns for the upcoming season.
In decorative bedding, among the highlights this week are the debut of a new sheet brand, Dreamspun, at WestPoint Home, which is targeted toward improving one's sleep. The company will also be focusing on organic products through its Portico Home and Under the Canopy brands, the latter of which will include a line of Eco-Quilts.
Revman has a number of launches prepared through its designer licenses and brands, but the key focus for the company this week will be the unveiling of its new showroom and headquarters in the Empire State Building. The company moved here from its location on Sixth Ave., where it had been since it was founded almost a quarter of a century ago.
In basic bedding, Hollander will present its focus on storytelling in its showroom. This theme encompasses its place as a made-in-America manufacturer, its entry into the foam category and its panoply of brands. The latter now includes the brands that came the company's way through its acquisition of Louisville Bedding's retail business earlier this year, which include Simmons Beautyrest, Croscill and Nautica.
Pacific Coast Feather will maintain its focus on innovation this week with the debut of 21 collections comprising more than 90 products. The company will present products with Resilia Feathers, which promise maximum loft and resilient support. It will also unveil its most recent licensed program with Spring Air, exhibiting the line of pillows, mattress pads, comforters, mattress protectors and sheet sets branded under the Spring Air, Sleep Sense and Chattam & Wells brands.